Ham and Noodle Casserole a delicious easy cheesy casserole.  Perfect comfort food for the cold days and nights. It is sure to be a family favorite that you will want to make over and over again.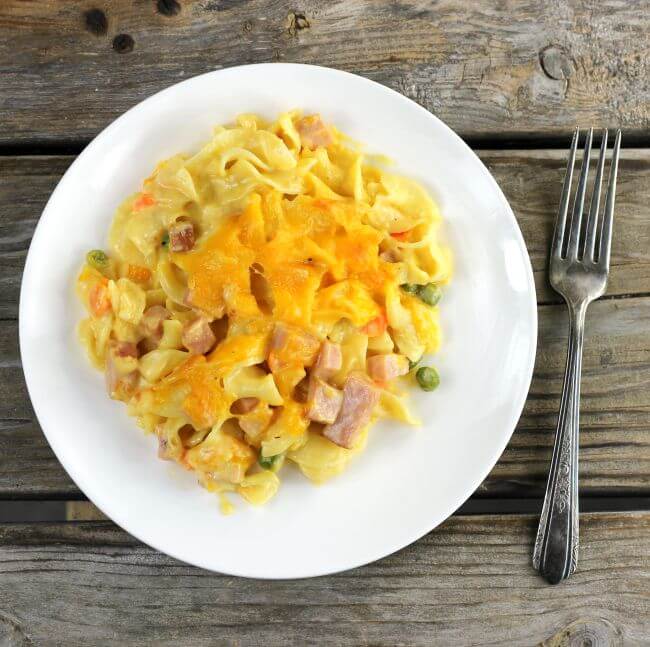 This dish starts out with a cream cheese base and is tossed with egg noodles and ham, along with some vegetables.
With the holidays coming up if you are making ham and you know that there is always some leftover ham, this is a great way to use it.
I have a family that loves the combination of noodles and cheese. If your family is like mine you need to put this on the menu. This dish is so simple to make and takes little time to throw together. Perfect for any day of the week.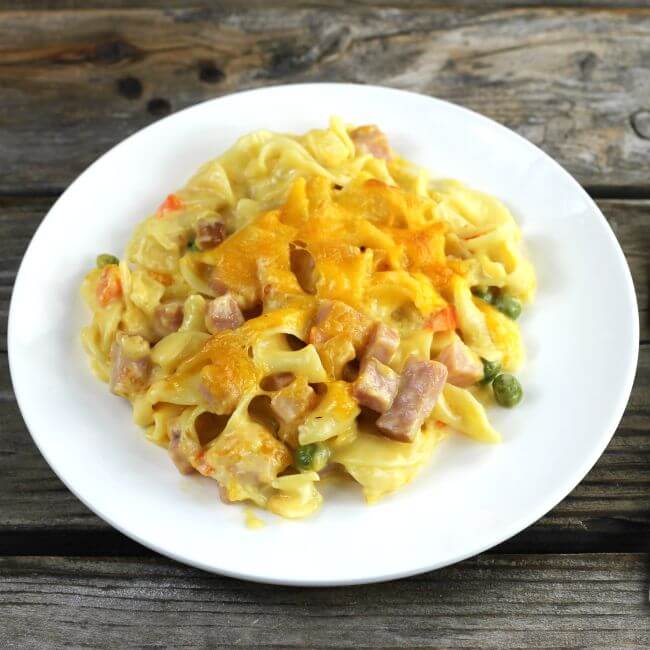 Helpful Tips:
To make this dish come together even faster cut your ham up the day before. Buy shredded cheese.  These two things will cut down on the time to throw this together the day you are making this dish.
When cooking the noodles use the directions on the package.
If you don't have leftover ham don't worry, you can purchase a ham steak and use that.
Frozen peas and carrots are used in this recipe, but you can use your favorite vegetables. Broccoli is a great vegetable to use if you want a change.
I like using some cream in the cheese sauce, but you can use all milk or even evaporated milk if you prefer.
Cheddar cheese is always a favorite when making this dish, but you can use other cheeses or a combination of cheeses for this recipe. Sharp cheddar, Gouda, Gruyere, Parmesan just to name some.
If you have leftovers it can be stored in the refrigerator for 3 to 5 days.
To reheat you can heat in the microwave to the desired temperature or cover and heat in a 350-degree oven.
Sorry, but I would not recommend freezing this. I am sure you will not have any problem eating it up.
Steps for making Ham and Noodle Casserole
Step one
Preheat the oven to 375 degrees F. Cook the egg noodles following the directions on the package. Once they are cooked drain completely.
Step two
Make the cheese sauce. To a large skillet add the butter and melt over medium heat. Add the flour and stir in until blended and smooth for about one to two minutes.
Step three
Slowly add the milk and cream stirring constantly until it is thickened about a minute or two. Add the sour cream and cheese and stir in. Keep stirring until the cheese is melted.
Step four
Add the noodles, ham, and vegetables and stir in. Season with salt and pepper. Pour into a 9×13 baking dish. Top with additional cheese.
Step five
Place in the preheated oven and bake for 25 to 30 minutes or until the cheese on top is melted and starts to brown. Serve
Need some additional easy meal recipes? Check these out:
Stay in touch with me on Facebook, Twitter, Instagram, Pinterest.