Garlic shrimp tortellini, with tender shrimp and pasta so simple to make it is great for your weeknight meals.
Garlic shrimp tortellini is super easy to make that it is perfect for any night of the week or the weekend. Some of the prep work can be done in advance to get this dish on the table in no time at all.
I am super excited about this post! I have made it twice in the last few weeks and it was delicious both times. The second time around I added some red pepper flakes and some Parmesan cheese. I was totally surprised by how well the shrimp and tortellini combination was.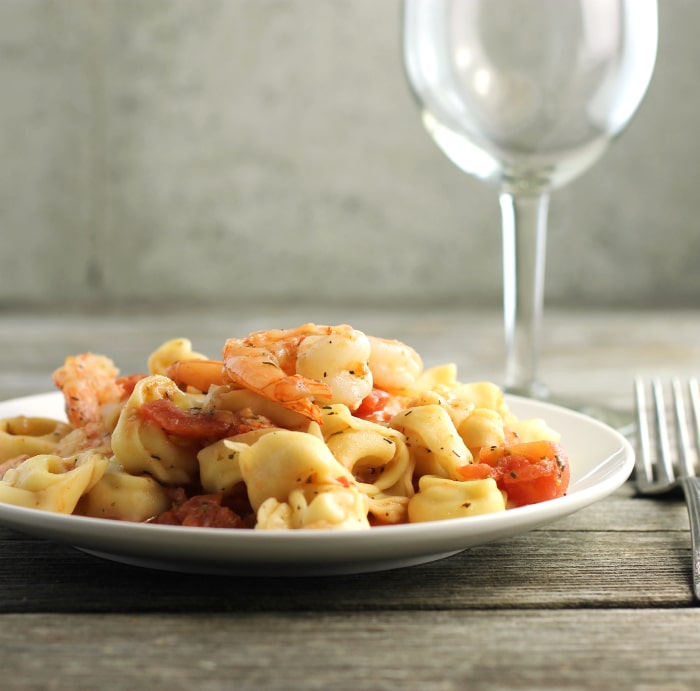 Shrimp is one thing that I like to cook during the week. I like to shell the shrimp before I leave for work in the morning so that it is ready to cook when I get home. It works out well for me.
When I finally get home from a long day at work one of the last things I want is a long wait time until dinner is on the table. This garlic shrimp tortellini fits the bill.
Shrimp is a thing that I usually make when Mike is on the road and one of the kids is at the house for dinner. Mike will not eat shrimp, but I am lucky that all of our kids have taken after me and they love to eat shrimp. So when I am making shrimp dishes they are always my guinea pigs.
So this garlic shrimp tortellini will be on the menu when my kids are coming for dinner.
Garlic Shrimp Tortellini
Garlic shrimp tortellini, with tender shrimp and pasta so simple to make it is great for your weeknight meals.
Ingredients
1

pound

shrimp

shelled and deveined

1

tablespoon

olive oil

2

cloves

garlic

2

tablespoons

onion

chopped fine

14.5

ounce can

diced tomatoes

1/4

cup

Parmesan cheese

1/8

teaspoon

red pepper flakes

19

ounce bag

cheese tortellini

Salt and pepper

to taste
Instructions
Cook the tortellini according to the direction on the bag. Once the pasta is done, drain and set aside.

Heat olive oil in a skillet over medium heat. Add the chopped garlic and onion to the skillet and cook for 1 to 2 minutes or until they start to soften.

Add the shrimp and cook until they are starting to turn pink.

Add the diced tomatoes, Parmesan cheese, and red pepper flakes to the shrimp mixture. Cook until the diced tomatoes are heated through and shrimp is done.

Toss in the cooked tortellini. Season with salt and pepper and serve.
If you love shrimp like I do check out these recipes:
One Pot Garlic Shrimp and Pasta