Fried Cabbage is honestly one of my favorite side dishes made with cabbage,  bacon, onion, and flavored with a little bit of sugar and vinegar. It is simple to make and really delicious.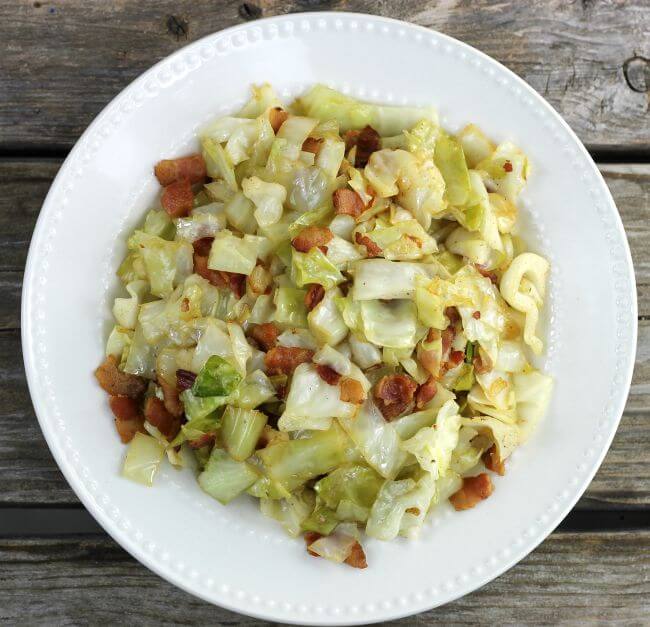 I love going to estate sales and try to go as many as possible. I love buying props for my blog and also love it when they have cookbooks for sale. That is where I first heard of fried cabbage.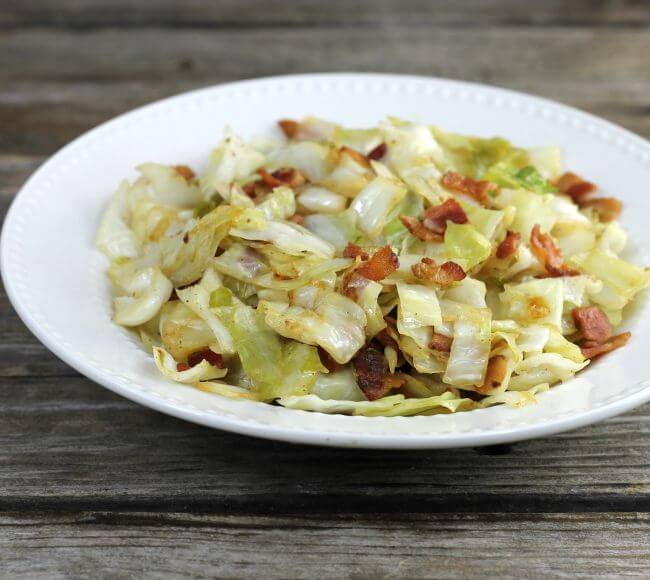 One of the cookbooks I found had an interesting recipe for this dish. The name caught my attention, but the recipe itself did not sound good to me. So I did further research to find out what I wanted to do.
When I first made this recipe I couldn't believe how delicious it was. And, now I think I could eat it every week and never tire of it. In fact, I think I could eat the whole batch myself, maybe not in one sitting, but maybe a couple.
Helpful Tips:
The easiest way to cut up the cabbage is to cut into quarters right through the core. Remove the core once you have the head cut into quarters.
Always wash your cabbage before eating it our cooking with it. After you have cut the cabbage into quarters it is a good time to wash the cabbage by running cold/cool water over it.
Cut the bacon into bite-size pieces before cooking it.
Cut the cabbage into about 1-inch squares or bite-size pieces.
Cook the onion before the cabbage to make sure that it has time to cook and become tender.
Adding the vinegar and sugar add a bit more flavor to this dish.
How long does this cabbage dish keep?
You can keep this dish in the refrigerator for 3 to 5 days when stored in an airtight container.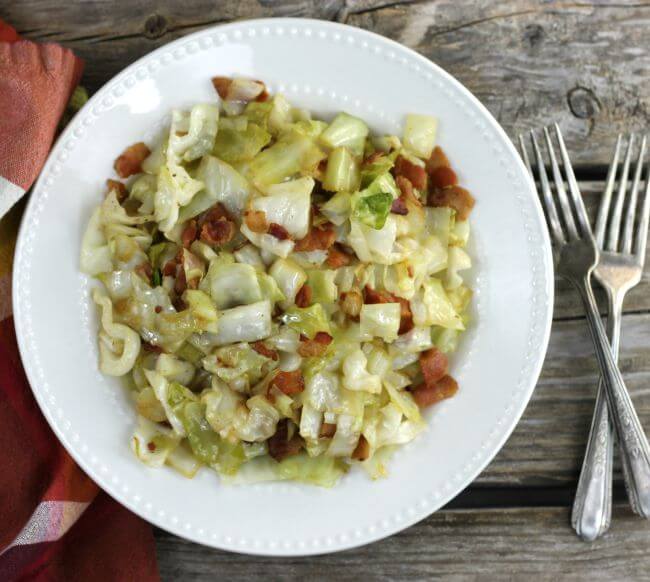 How can you reheat the cabbage?
I find that the best way to reheat the cabbage is to place in a skillet and heat over medium-low heat until it is heated through. Although I have heated the cabbage in the microwave as well, which works also if you want to heat it up in a hurry.
Steps for Making Fried Cabbage:
Step One:
Cut your cabbage into quarters and remove the core. Rinse the cabbage with cold water. Dry and cut into bite-size pieces.
Step Two:
Chop the bacon into bite-size pieces. Place in the chopped bacon in a large skillet and cook over medium heat until the bacon is lightly crispy. One the bacon is cooked remove from the skillet and place it on paper towels. Do not remove the bacon grease from the skillet.
Step Three:
Chop the onion and add it to the bacon grease. Cook the onion for 3 to 5 minutes or tender.
Step Four:
Once the onion is cooked add the chopped cabbage and cook for 10 to 15 minutes or until desired doneness. The cabbage should be wilted, but still somewhat crisp.
Step Five:
Toss in the red wine vinegar, sugar, and salt.
Step Six:
Toss in the bacon and cook until the bacon is heated through. Serve.
Looking for additional side dishes? Check out these recipes: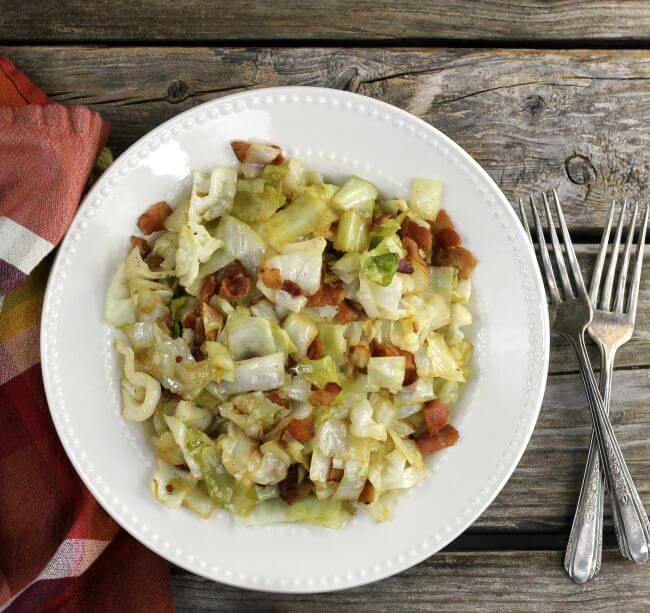 Stay in touch with me on Facebook, Twitter, Instagram, and Pinterest.