Easy hamburger stew is the perfect comfort food when the days get a little chill in the air. Nothing says comfort food than a good stew.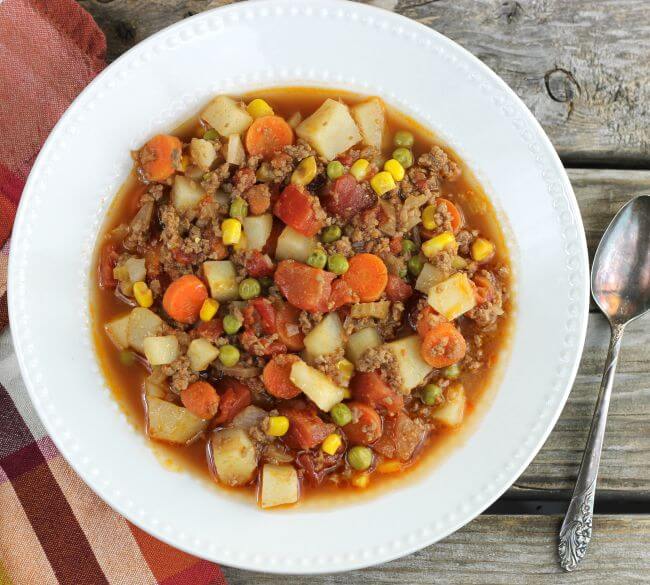 This easy hamburger stew goes way back. When I was in college I worked at a summer camp. It was one of the best summers of my youth. It was a camp for people with mental disabilities. We had children as young as 5 years old to people that were in their 70s that came to the camp. It was a wonderful experience. 
Each week we would take our campers on a camping trip. We would prepare our meals over a campfire and sleep in tents. So much fun. This easy hamburger stew was one of the meals that we could choose to make for dinner. It was one that was chosen most of the time because we loved how hearty it was and delicious.
Ingredients:
Hamburger – I use a lean hamburger, but you could switch it out with ground chicken, pork, or turkey.
Onion
Celery
Carrots
Potatoes
Diced tomatoes – I used canned tomatoes for this recipe, but fresh tomatoes would work as well.
Frozen corn – Canned corn can be used, just make sure to drain the liquid before adding it to the stew.
Frozen peas – Canned peas can be used, make sure to drain the liquid just as you would for the corn.
Beef broth – You can use vegetable broth if you prefer.
Bay Leaves
Salt and Pepper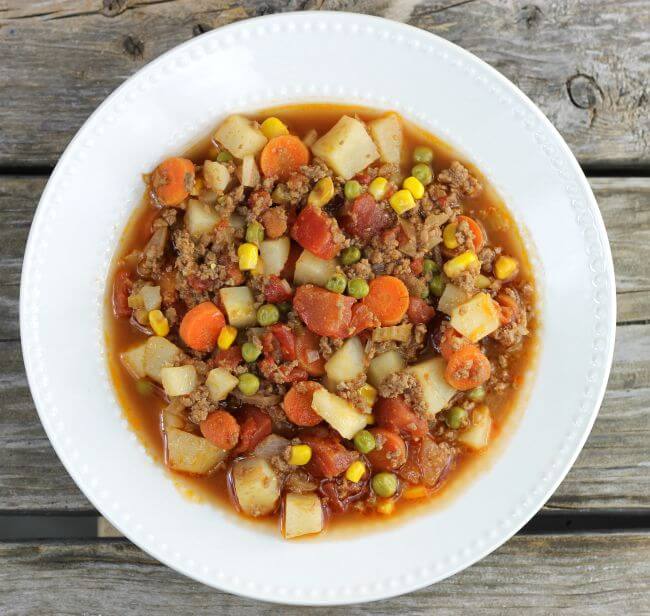 Helpful tips:
Use low sodium broth for a healthier choice.
Cook the onions, celery, carrots, and potatoes with the hamburger, until the meat, is brown and the vegetables start to soften.
The stew will keep in the fridge for 3 to 4 days. Like most soups and stews I think it tastes better the next day.
The stew can be reheated in the microwave or the stove whichever one you prefer.
If you find that the stew is too much to eat in 3 to 4 days you can freeze it. It will keep well in the freezer for up to 3 months.
Steps for making Easy Hamburger Stew:
Step one:
In a Dutch oven or a soup pot combine the hamburger, onion, celery,  and carrots.
Step Two:
Over medium heat cook until the hamburger is brown and the vegetables are starting to get tender. Stir occasionally so it doesn't burn.
Step Three:
Once the hamburger is browned remove any extra grease.
Step Four:
Add the canned tomatoes, corn, and peas stir until well combined. Add the beef broth and bay leaves.
Step Five:
Bring the stew to a boil, then reduce heat and cook until the vegetables are tender and flavors are blended.
Step Six:
Remove bay leaves and serve.
More comfort food recipes:
Stay in touch with me on Facebook, Twitter, Instagram, and Pinterest.
Did you like this recipe? You can pin it for later or comment on my Facebook page. I would love to know what you think!
 If you like this recipe check this one out.
This recipe was originally published on October 23, 2016. It has been updated with new content and pictures on December 10, 2019.
(Visited 9,024 times, 1 visits today)