A comforting soup featuring chicken and mushroom… cream of chicken mushroom soup.
Do you ever find yourself being the only one in your house that likes a certain food? It is so sad, but that is how it is at my house when it comes to mushrooms. Both my guys turn up their noses when the word mushroom is spoken.  Yep, you know it I love them.
I don't buy them too often because I can only eat so many in a salad and to cook a bunch of mushrooms just for myself doesn't seem worth it.  But there are times when I can't stop myself from grabbing a container of fresh mushrooms off of the shelf at the grocery store. They always look so good and I am sure that I will find a way to incorporate them into one of my meals during the week if not just eat them raw on a salad for my lunches during the week.
I actually bought a container for my daughter-in-law Brianna's birthday dinner, but I had some left over. When trying to decide what to do with the leftovers I wasn't quite sure what I wanted. I had chicken that I had purchased to make a big pot of soup for the week and I decided that they would go nicely with the chicken.
This is one of those soups that I kind of throw in things as I go along. That is my favorite way to make soups, I like to go with things that I have in the pantry. As I am making the soup, I taste it as I add ingredients, adding a bit of this and a bit of that until it has the taste that I am looking for.
I was incredibly pleased with this soup. The soup is filling and just a great comfort soup. It has been packed in my lunch bag for work this week and, I find that I can't wait for lunch to roll around so I can eat my soup.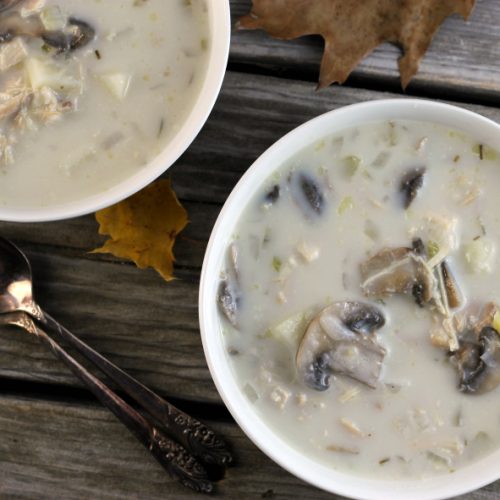 Ingredients
2

tablespoons

butter

1

medium onion chopped

2

tablespoons

flour

32

ounces

chicken broth homemade or store purchased

3

cups

milk

I used 2%, but use what you prefer

2

stalks celery

finely chopped

2

medium potatoes peeled and cut into small cubes

2 to 3

cups

of cooked chicken cut into bite sized pieces

2 to 3

cups

sliced mushrooms

1

bay leaf

1

teaspoon

Rosemary

Salt and pepper to taste
Instructions
In a Dutch oven or a large soup kettle, add the butter and onions. Saute for 4 to 5 minutes until the onions are starting to get tender.

Add the flour and stir in until well blended. Add your chicken broth stirring as you pour the broth in, once the broth is added pour in the milk stirring as it is added.

Add the celery, potatoes, mushrooms, chicken, bay leaf, and rosemary. Season with salt and pepper. Continue to cook until the celery and potatoes are tender.