Cranberry pistachio oat muffins are topped with a brown sugar topping; which gives these muffins a tart and sweet taste.
One of the things that I love at this time of year is all the fresh cranberries in the stores. Yeah, I know that you can get cranberries in the store at other times of the year, which are either frozen or dried. But for me, I love it when the fresh ones roll out to the store shelves.  Hence these cranberry pistachio oat muffins. 
I wanted to share a cranberry recipe this week. When Mike and I were grocery shopping this past weekend I picked up a couple of bags of fresh cranberries. So I looked through my blog to see what recipes that I have shared that feature cranberries and to my surprise I did not have a muffin recipe.
Well, I had to fix that, so here is the cranberry pistachio oat muffin recipe to fill the hole.
I love the tart flavor that cranberries give to any baked items. But I like to counteract that tartness with a bit of sweetness. The brown sugar topping adds that sweetness that I was looking for.
What are your favorite muffins at this time of year? Are you as excited as I am that there are fresh cranberries in the stores once again?
If you like this recipe check this one out.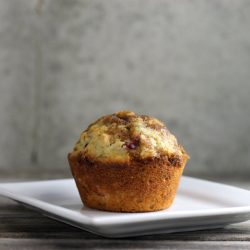 Ingredients
1 1/2

cup

flour

1 1/2

cup

old fashion oats

2 1/2

teaspoons

baking powder

1/2

teaspoon

salt

3/4

cup

sugar

1/2

cup

vegetable oil

2

eggs

3/4

cup

milk

1

teaspoon

vanilla

1

cup

chopped cranberries

1/2

cup

chopped pistachios

Topping

1/3

cup

packed brown sugar

1

tablespoon

flour

1

teaspoon

cinnamon

1

tablespoon

butter
Instructions
Preheat oven to 375 degrees F. Grease muffin tins or line with paper liners.

In a large bowl combine the flour, oats, baking powder, and salt, mix together.

In another bowl whisk together the sugar, oil, eggs, milk, and vanilla.

Add the wet ingredients to the dry and mix just until combined.

Fold in the cranberries and pistachios.

For the topping

In a small bowl combine the brown sugar, flour, cinnamon, and butter and mix well.

Fill the muffin tins two-thirds of the way. Sprinkle the brown sugar topping over the top of each muffin.

Place in the preheated oven and bake for 18 to 20 minutes.

Cool completely and serve.