Congo bars a sweet treat that makes a great dessert or an afternoon snack. These soft chewy bars make a 9 by 13-inch pan, so there will be plenty to go around.
These congo bars bring back memories of when I was a kid in school. My school would serve these congo bars for dessert for lunch every once in a while. The whole school loved them and the students were always happy when they were on the menu.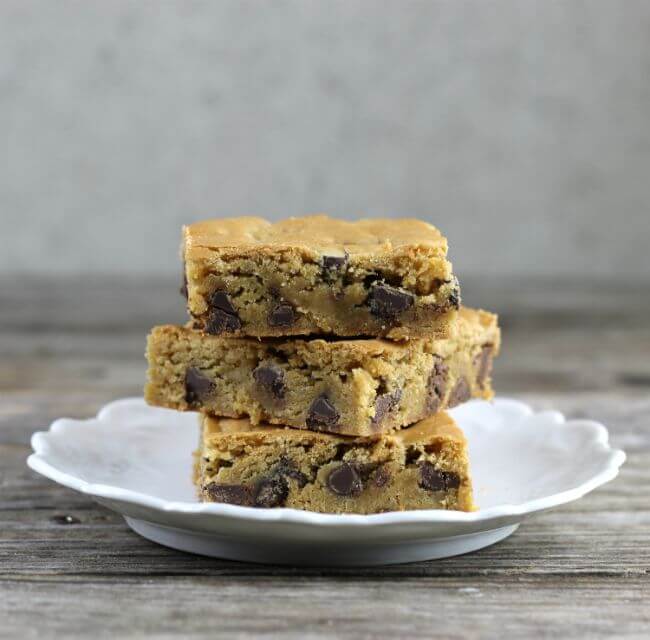 Did your school make these bars for lunches?
These are similar to chocolate cookies but much easier to make. Make the dough, press them into the pan, and bake them… you will have a yummy dessert in less than an hour. It can't get much easier than that.
Helpful Tips:
Take the butter and eggs out of the refrigerator 20 to 30 minutes before you begin making the recipe.
Use real butter for a richer flavor.
I like using semi-sweet chips, but you can use milk chocolate or dark chocolate chips.
Make sure not to over bake these bars, overbaking will result in dry crumbly bars.
I like to make these bars in a 9 by 13-inch pan, but they can also be made in a  10 by 15-inch pan. The bars will be thinner and make take fewer minutes to bake.
Steps for making Congo Bars:
Step one
Preheat the oven to 350 degrees F. Lightly grease a 9 by 13-inch pan.
Step two
Sift together the flour, baking powder, and salt together in a small bowl and set aside.
Step three
In a medium bowl cream together the butter and brown sugar until creamy.
Step four
Add the eggs one at a time and mix until blended.
Step five
Mix in the vanilla.
Step six
Add the flour mixture to the wet ingredients and mix until blended. Add the chocolate chips and mix until they are combined.
Step seven
Pat the dough into the prepared pan.
Step eight
Bake in the preheated oven for 20 to 25 minutes or until the top of the bars are golden brown. Cool on a cooling rack once they are baked.
If you like simple desserts check out these recipes:
Stay in touch with me on Facebook, Twitter, Instagram, and Pinterest.