Coconut almond macaroons, I love the coconut and almond combination.
I love coconut! The sad thing is that I am the only one in the family that will eat it. When our kids were little and they would go trick or treating for Halloween; if they received any candy that had coconut in it they would always give it to me, because they would not eat it.  It was a good thing for me, I loved those Almond Joys and Mounds candy bars that they handed over to me.
The sad thing was that I never baked anything with coconut. Well that is until now. That's right, over 30 years of being married these macaroons are the first things ever that I have made with coconut. That's right!
Mike, you may say has turned over a new leaf. I have mentioned that he does a lot of traveling for his job, so that means a lot of eating out. He was at a little cafe where they had coconut macaroons for one of their desserts. For some odd reason he decided to order one and he decided that they were quite yummy.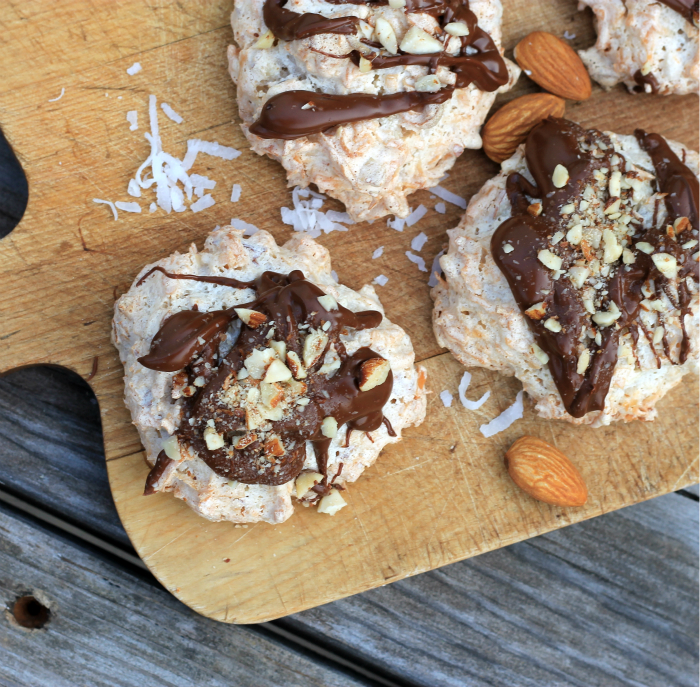 Yeah, when he told me about the macaroons that he had eaten and liked it, I was in total shock. He came home and asked me to try and make them at home. Believe me I did not mind it at all… happy face!
The first time I made them they were good, but they did not have enough coconut in them. I made them again increasing the coconut and they were just about perfect.  I added almond and chocolate and yeah… happy face.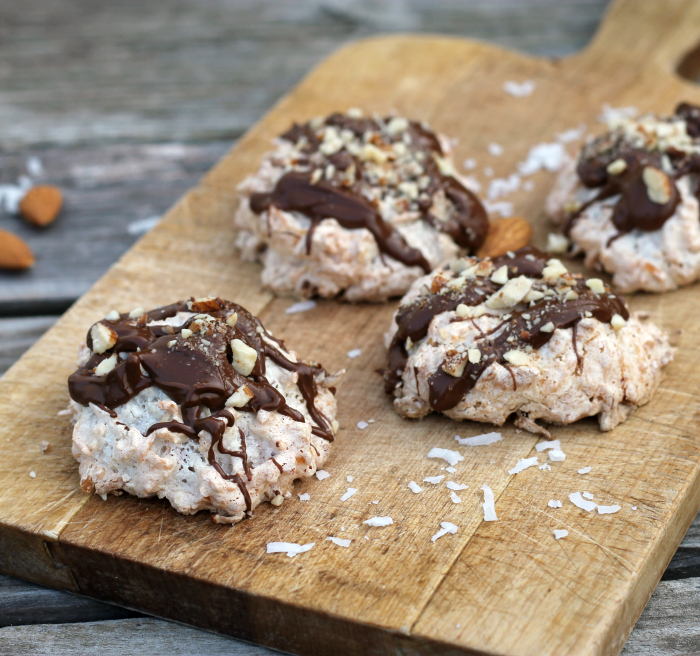 Coconut Almond Macaroons
Ingredients
2 1/2

cups

sweetened shredded coconut

2

egg whites

1/8

teaspoon

cream of tartar

1/2

teaspoon

vanilla

Dash of salt

2/3

cup

sugar

1/2

cup

plus 2 tablespoons

divided finely chopped almonds

1/2

cup

milk chocolate chips

1

teaspoon

shortening
Instructions
Preheat oven to 325 degrees F.

In a medium bowl add the egg whites, salt, vanilla,and cream of tartar, beat with an electric mixer until soft peak form. Gradually add sugar and beat until stiff peaks form. Add the coconut and 1/2 cup of the chopped almonds, mix unit well blended.

Drop heaping teaspoons of dough on to a greased cookie sheet. Bake for about 20 minutes or until lightly browned.

Remove from oven remove from cookies sheet and place on cooling rack and cool completely.

While the cookies are cooling melt chocolate with the shortening in the microwave. Be sure to microwave for short periods and stir in between. I usually microwave for 20 seconds and stir and continue until chocolate is melted. Once the cookies are cooled and chocolate is melted drizzle the chocolate over the macaroons and sprinkle with the remaining 2 tablespoons of chopped nuts.