Cinnamon roll muffins, a fun twist on everyday cinnamon rolls that everyone will love.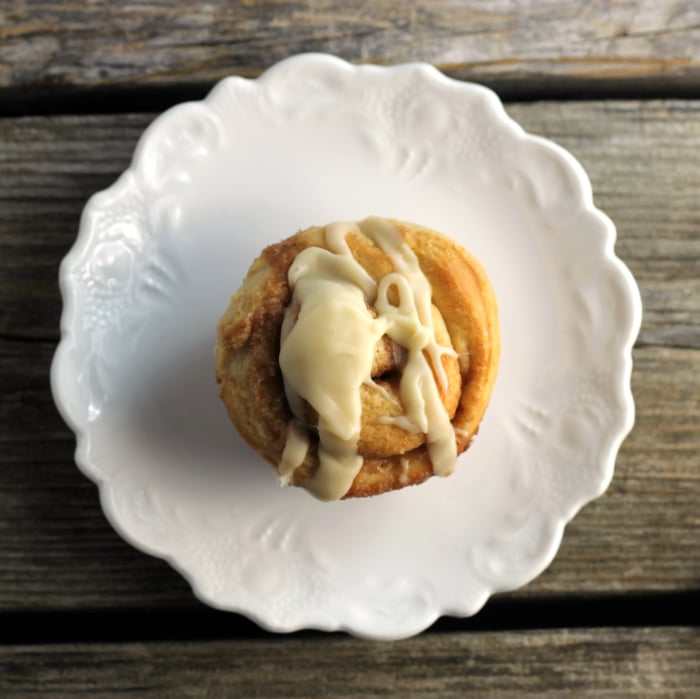 Cinnamon rolls muffins aren't your everyday muffins. I actually made cinnamon rolls and put them in muffin tins. They bake up golden brown and delicious.
If you look around this here blog you will see that I have a few different types of cinnamon rolls. Sometimes I think I am a little obsessed with the whole yeast cinnamon rolls.
I guess I can blame that on my mother. As I have mentioned before my mother made a lot of bread in her day. I have two sisters and my mom made sure that each one of us could bake bread. It is a tradition thing sort of. Bread making goes way back in my mom's family.
But believe me I am not complaining. I find bread making is calming for me. Maybe it is all the kneading that goes into the bread making or maybe it is because I am a huge fan when it comes to eating bread. Homemade bread was served at every meal when I was a kid, so how could I not love the stuff?
As far as the cinnamon rolls I love making them for breakfast. I am a breakfast person and love all sweet and savory dishes.
I made yeast bread with honey for these cinnamon roll muffins; the bread part of the roll is not as sweet as some cinnamon rolls are. The filling is your basic butter, cinnamon, and sugar that you will find in your average cinnamon rolls.
I topped these cinnamon roll muffins off with a penuche frosting.
If you are looking for a cinnamon roll recipe to make, I would suggest that you give these a try or one of these:
Cinnamon Roll Muffins
Cinnamon roll muffins, a fun twist on every day cinnamon rolls that everyone will love.
Ingredients
Cinnamon roll muffins
2 1/4

teaspoons

yeast

3 1/2 to 4

cups

flour

1

teaspoon

salt

1

teaspoon

cinnamon

1 1/4

cup

milk

1/4

cup

honey

1/4

cup

butter

1

egg
Filling
3

tablespoons

butter

softened

1 1/2

teaspoon

cinnamon

1/2

cup

granulated sugar

1/2

cup

brown sugar
Frosting
2

tablespoons

brown sugar

2

tablespoons

butter

3

tablespoons

heavy cream

1 1/2

cups

powdered sugar
Instructions
In a large bowl add 1 cup of flour, yeast, salt, and 1 teaspoon of cinnamon

Heat the milk and 1/4 cup butter in the microwave to 120 to 130 degrees F. Add to the flour mixture and mix in.

Add the honey and egg, mix until combined.

Gradually add the rest of the flour. Knead the dough until smooth. Let rest for about an hour or until double in size.

When the dough is has rested and is double in size divide into two equal parts. Melt the 3 tablespoons of butter. Mix the 1 1/2 teaspoon with the granulated sugar and brown sugar for the filling.

Roll the dough into 12 by 10-inch rectangles. Spread with half of the melted butter then sprinkle half of the sugar and cinnamon mixture over top of the butter.

Roll the dough the tightly. Cut into 12 equal parts. Place in a well greased muffin tins. Repeat with second half of dough.

Let the rolls rest for about 1/2 hour. Preheat the oven to 375 degrees F.

Once the rolls have rested for 1/2 hour place in the oven and bake for 12 minutes or until lightly brown. Remove from tins once they come out of the oven and let cool completely on cooling racks.

While the sweet rolls are cooling make your frosting.

In a small sauce pan combine the 2 tablespoons brown sugar, 2 tablespoons butter, and 3 tablespoons cream. Heat over medium heat until it comes to a boil, continue to boil for a minute or two. Remove from heat and cool slightly.

Add enough powdered sugar for the right consistence for frosting. Frost cooled the cooled cinnamon roll muffins.
Nutrition Facts
Cinnamon Roll Muffins
Amount Per Serving
Calories 192
* Percent Daily Values are based on a 2000 calorie diet.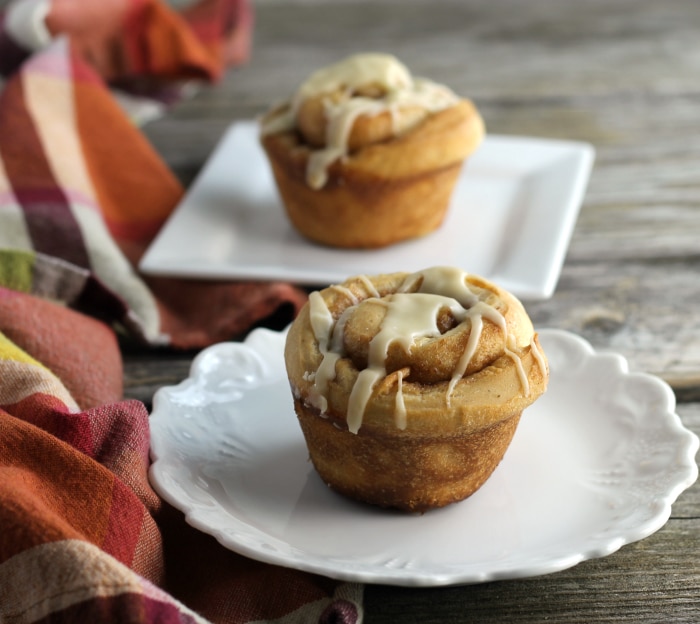 (Visited 21 times, 1 visits today)