Cinnamon Quick Bread is a simple quick bread full of cinnamon flavor plus it has a cinnamon and sugar topping and then has a drizzle of vanilla icing over the top.
I love quick breads. Well, I should say I love bread in general. I made my first batch of yeast bread when I was in my teens. And, the love of making bread continues. But there is something about a sweet bread that is easy and fast to whip up.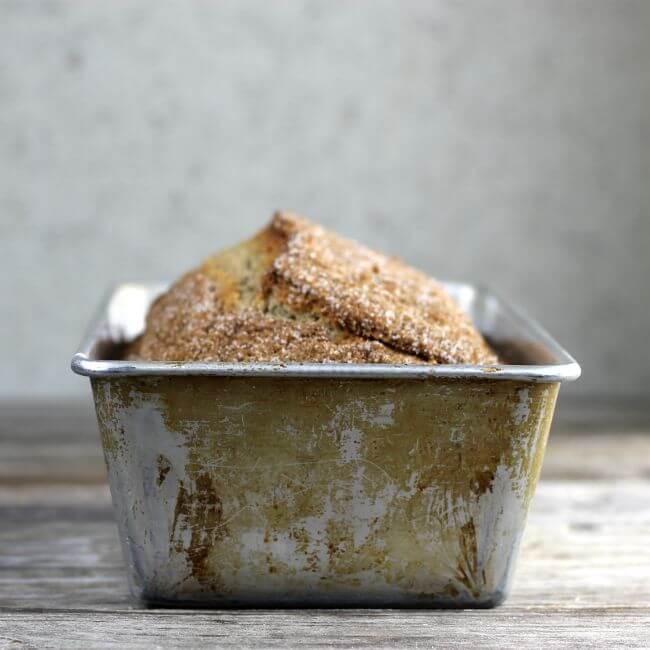 This bread is perfect for a slice in the morning or a slice of dessert, it works great either way. Also, the bread is moist and loaded with the flavor of cinnamon.
Helpful Tips:
If you don't have buttermilk you can use one cup of milk minus one tablespoon and one tablespoon of vinegar or lemon.
Don't over mix the bread batter. Over mixing will cause a tough bread.
Use shortening or non-stick cooking spray for greasing the pan, butter likes to burn so it is not a good choice.
Check the bread 10 to 15 minutes before the baking time is complete to check for doneness. If the bread is browning too quickly cover with foil to prevent over-browning.
Use a wood pick to check for doneness. If the pick comes out clean the bread is done.
When done remove from the oven and cool for about 10 minutes in the pan, after the 5 to 10 minutes remove from the pan and cool completely on a cooling rack
Store in an airtight container on the counter for up to three days, if longer it can be stored in the refrigerator for a week.
The bread can be frozen in the freezer for up to three months. For best results cover with plastic wrap and then place in a freezer bag.
Steps for making Cinnamon Quick Bread
Step one
Preheat the oven to 350 degrees F. Grease the bottom and about 1/2 inch up the sides of a 9 by 4-inch bread pan.
Step two
Mix the dry flour, baking soda, baking powder, salt, and cinnamon in a small bowl and set aside.
Step three
Place the sugar, oil, eggs, and buttermilk/sour milk in a medium bowl and mix together. Mix in the vanilla.
Step four
Add the dry ingredients to the wet ingredients and mix until combined. Pour the batter in the prepared bread pan.
Step five
Mix two tablespoon sugar, brown sugar, and one teaspoon of cinnamon and sprinkle over top of the batter.
Step six
Place in the oven and bake for 50 to 55 minutes or until when a wooden pick comes out clean. Set on a cooling rack to cool for 5 to 10 minutes, then remove from the pan and set on a cooling rack until cooled. Once the bread is cooled completely cooled top with the icing
Looking for other quick bread recipes? Check these out:
Stay in touch with me on Facebook, Twitter, Instagram, and Pinterest.