Chorizo Frittata a spicy frittata made with chorizo sausage, green peppers, onions, black beans, spinach, and a blend of cheeses. They are simple to make and can be made for breakfast or dinner.
This recipe features chorizo and eggs which are a great combination, I love the spiciness that it adds to this egg dish. But, don't worry it is not overly spicy.
Frittatas are super simple to make and takes very little effort to turn out this beautiful delicious dish
What is a frittata?
A frittata is an egg-based dish similar to an omelet or scrambled eggs, usually containing ingredients such as meats, cheeses, or vegetables. The origin of a frittata is from Italy.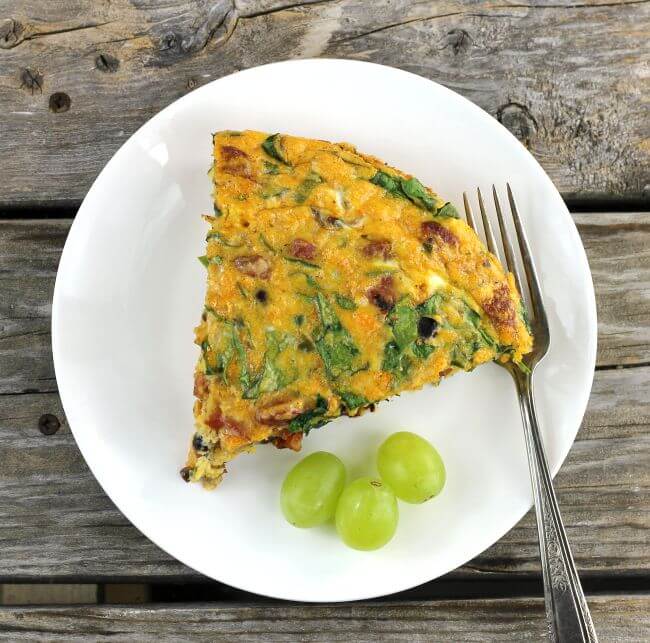 Ingredients and Substitutes:
Chorizo – I love the chorizo in this frittata, but you could use andouille or other spicy smoked sausages.
Black beans –  I really love black beans and eat in all kinds of dishes, but you could use pinto beans if you prefer.
Green Peppers – If you like a hotter pepper you could try jalapeno, but I would reduce the amount of peppers that the recipe calls for unless you really like the heat.
Onion – Try using green onions in this recipe if you like.
Spinach – If you like you can use some cilantro instead of the spinach. (To be honest with you I am one of the those who does not like the taste of cilantro, that is why I used the spinach).
Mexican Cheese Blend – I bought a package of shredded cheese blend called Mexican cheese blend for this recipe. If you like you could use cheddar cheese in its place.
Eggs
 Tips:
A cast-iron pan is perfect for making a frittata. It works great for preparing the chorizo, onions, and green peppers and, it works well for baking the frittata in the oven.
You will know that the frittata is done when the center is set and the edges are brown.
The frittata can be stored in the refrigerator for up to 4 days.
If you would like to store it for longer the frittata can be frozen for 1 to 3 months
When it comes to thawing a frozen frittata place in the refrigerator for about 24 hours before reheating.
To reheat you can use the microwave or the oven. Reheating in the microwave is faster, but it may change the texture. When reheating in the oven cover with aluminum foil and bake at 350 degrees F. until it is heated through.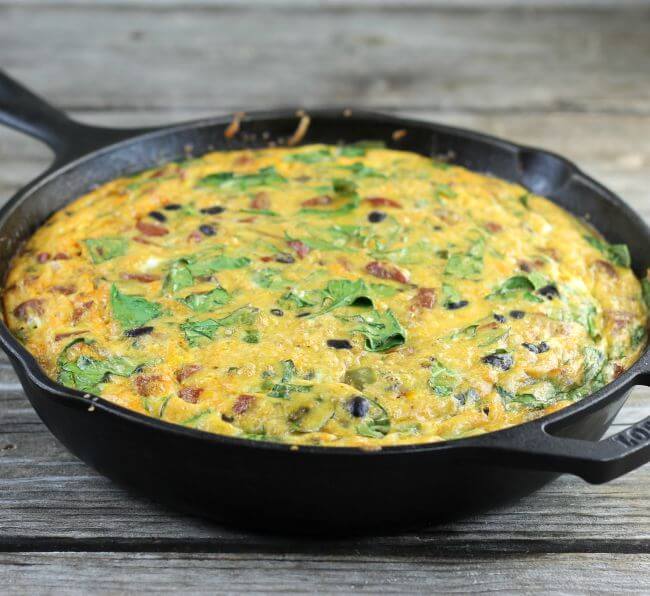 Steps for making a Chorizo Fritta:
Step One:
Preheat the oven to 350 degrees F.
Step Two:
Remove the skin for the chorizo and chop into small bite-size pieces.  Chop the green pepper and the onion as well. Place the chorizo, green pepper, and onion in the cast-iron skillet and cook for 8 to 10 over medium heat. The green peppers and onions should be tender and the chorizo lightly browned.
Step Three:
Add the black beans, spinach, cheese, and beaten eggs into the cast-iron skillet. Stir so that everything is well combined.
Step Four:
Place in the preheated oven and bake for 20 to 25 minutes or until the center is set and the edge is golden brown.
Check out these recipes for more breakfast ideas:
Stay in touch with me on Facebook, Twitter, Instagram, and Pinterest.