Chocolate Marshmallow Pie a decadent light fluffy chocolatey no-bake pie, it really can't get much better than this. You can never go wrong when it comes to a dessert that has chocolate and marshmallow as the main ingredients.
As you may already know I love chocolate desserts. And, one thing more that I love is easy desserts. This recipe fits both categories.
With only a handful of ingredients, you will want to make this pie recipe over and over again.
Helpful Tips:
Make sure that the marshmallows that you are using are fresh. As marshmallows start to get old the exterior of the marshmallow starts to get dry, which makes it hard to melt them.
Don't melt the marshmallows in the microwave, use a double boiler or if you don't have a double boiler use a bowl over a large pan. It is best to melt the marshmallow slowly where they stay soft. When melting the marshmallow in the microwave they will get dry and crunchy.
If you prefer to use miniature marshmallow you can. Instead of 30 large ones use 3 cups of the miniature ones.
Chop, grate, or use a food processor for chopping the chocolate, you will want the chocolate in small pieces so that it melts easily. It will speed up the process.
Use unsweetened chocolate or a semi-sweet, with the sweetness of the marshmallow you don't need to add sweet chocolate.
Before adding the whipped cream to the melted marshmallow you will need to cool the ingredients to room temperature.
What topping can you add for this chocolate marshmallow pie?
Believe me, the pie is delicious on its own, but some fun to add so additional toppings.
Whipped cream is one of my favorite things to top this pie with.
Chopped or shaved chocolate,  in my book you can never have enough chocolate.
Caramel sauce always goes well with chocolate, yum.
Or you may have some ideas on your own.
Steps for making chocolate marshmallow pie:
Step one:
Make the crust or if you prefer you can buy a crust in the store. I use a graham cracker crust. See the ingredients and the steps in the recipe card.
Step two:
Prepare the chocolate by grating it or processing it in a food processor.
Step three:
In a double boiler (or a large saucepan and bowl) add the marshmallows and milk.
Step four:
Over medium-low heat melt the marshmallows, stirring constantly until they are melted. Add the vanilla and mix well.
Step five:
Add the prepared chocolate and stir in until it is melted and combined.
Step six:
Let chocolate mixture cool until room temperature.
Step seven:
Whip the whipping cream until stiff peaks form. Add the whipped cream to the cooled chocolate mixture and fold in until well combined.
Step Eight:
Pour the filling into the prepared crust. Refrigerate.
Remember March 14th is Pi day. Check out these pie recipes: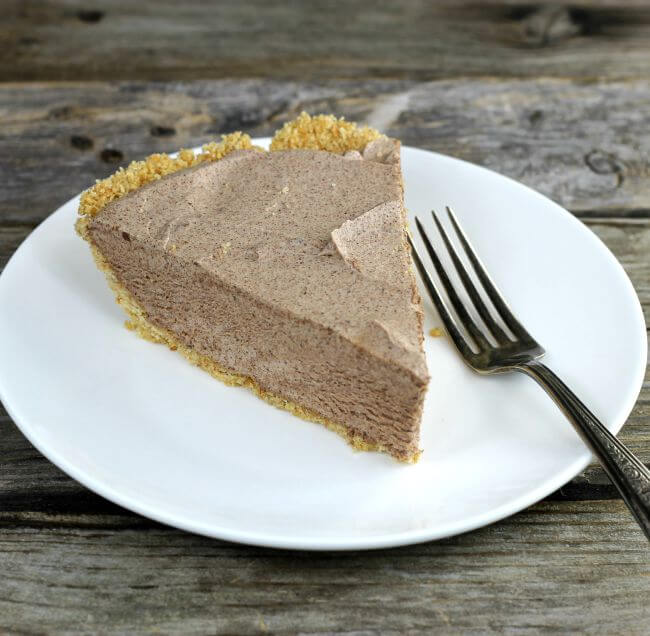 Stay in touch with me on Facebook, Twitter, Instagram, and Pinterest.