Chocolate Layer Bars a crumbly sweet bar with a fudgy chocolate center. These bars are easy to make and the crust and the top are like a sweet shortbread texture and the center is a fudgy chocolate cream cheese mixture.
We all need a little sweets in our life from time to time. With all that is going on in the world today, I thought it would be a good thing to share a simple dessert recipe. Something that possibly will make your day a little better/sweeter.
This recipe may just turn out to be your family favorite.
Helpful Tips:
Have the cream cheese, butter, and eggs at room temperature.
Don't worry if the cream cheese does not melt completely when you cook it with the chocolate chips and cream. It will blend together with the chocolate when it bakes.
If you don't have heavy cream, you can substitute it for evaporated milk.
The recipe calls for semi-sweet chocolate chips, for a lighter sweeter chocolate flavor use milk chocolate chips
Make sure that you melt the chocolate, cream cheese, and cream at a lower heat and stir constantly or the chocolate mixture may start to burn on the bottom of the pan.
You will know that the bars are done when the topping is golden brown and the chocolate is firm.
If you don't like the almond extract that is in the recipe you can switch it out with vanilla extract.
Steps to make Chocolate Layer Bars
Step one
Preheat the oven to 350 degrees F. Grease a 9 by 13-inch pan.
Step two
In a medium saucepan combine the chocolate chips, cream cheese, and heavy cream. Cook over medium-low heat stirring constantly until the chocolate and cream cheese is melted and combined.
Step three
Remove from the heat and stir in the almond extract and set aside.
Step four
In a large mixing bowl beat together the sugar and butter with an electric mixer. Add the eggs and mix until well combined.
Step five
Sift together the flour, baking soda, and salt. Add to the wet ingredients and mix until the mixture forms coarse crumbs.
Step six
Press half the dough in the bottom of the prepared baking pan. Spread the chocolate over the top of the crust.
Step seven
Sprinkle the rest of the dough over the top of the chocolate. Place the bars in the preheated oven and bake between 33 and 35 minutes or until the top of the bars are golden brown.
Step eight
Remove from the oven and cool completely before cutting bars. Store in an airtight container on the counter.
Looking for more simple sweet treats? Check out these recipes: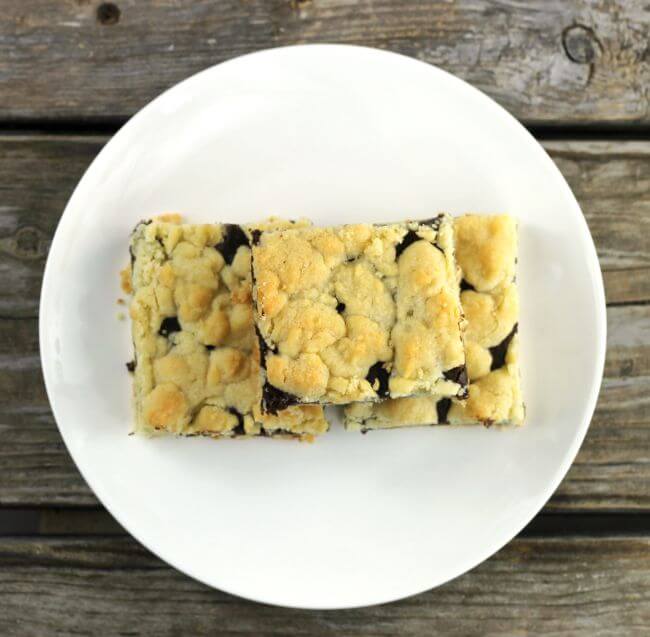 Stay in touch with me on Facebook, Twitter, Instagram, and Pinterest.
(Visited 188 times, 1 visits today)