Chili Mac and Cheese combines two of the best comfort foods of all time into one irresistible dish. You will probably have most of the ingredients in your kitchen, which is always a plus.
It's loaded with ground beef, beans, tomatoes, onions, macaroni, cheese, and spices.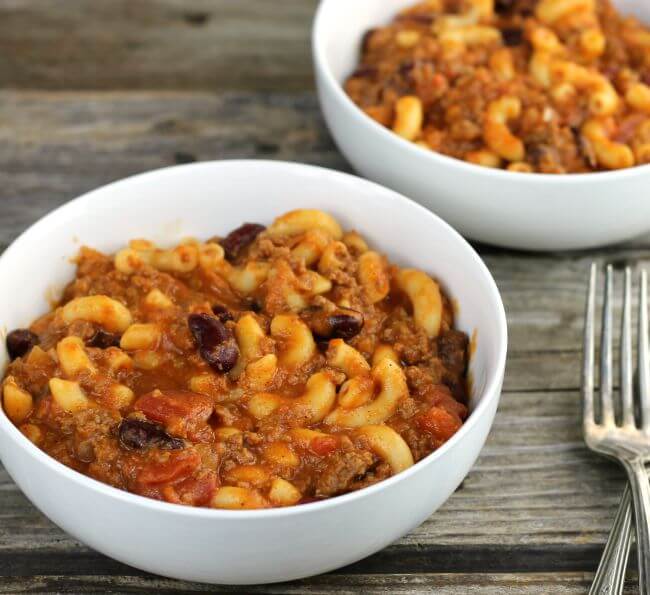 I like nothing better than a bowl of comfort food that is simple to make and tastes great too when the weather is cold. There is nothing that warms you up and keeps you going than dishes like this.
Helpful Tips:
Cook the hamburger, onion, and garlic together. Cook the hamburger until it is no longer pink and the onions are tender.
When the hamburger is browned remove any excess grease.
If cooking the macaroni beforehand cook the noodles a minute or two less than what the directions call for.
If you want to make this a one-pot meal add the uncooked macaroni to the pot and cook until the noodles are tender.
Can you freeze this recipe?
Yes, you can freeze it for up to 3 months. Make sure to put it in an airtight freezer container. But, you can store it in the refrigerator for 3 to 4 days.
What is the best way to reheat?
I like to heat this in the microwave. It is quick and simple and is ready to eat in no time at all. If you prefer you can heat on the stove, just place the amount you want in a saucepan and heat over medium-low until it is heated through.
Steps for making chili mac and cheese:
Step one:
Add the hamburger, onion, and garlic to a large Dutch oven or a soup pot. Cook until the hamburger is no longer pink and the onion is tender.
Step two:
While browning the hamburger cook the macaroni. Cook a minute or two less than what the directions say on the box.
Step three:
Drain the excess grease once the ground beef is browned. Drain and rinse the kidney beans.
Step four:
Add the beef broth, tomato sauce, diced tomatoes, kidney beans, and macaroni and stir in.
Step five:
Add the seasoning and stir in. Stir in the cheese until it is melted.
Step six:
Cook for about 15 minutes or until heated through.
Check out more comfort food recipes:
Stay in touch with me on Facebook, Twitter, Instagram, and Pinterest.