Chicken Philly Cheesesteak Sandwich is loaded with tender pieces of chicken breast, melted provolone cheese, sauteed onions along with red and green peppers. You won't go hungry with this sandwich.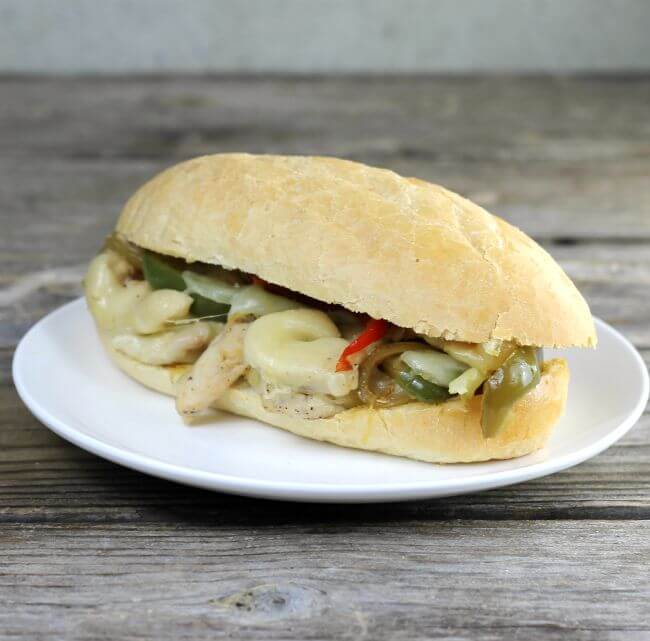 This time of the year when it is a good thing to have some easy recipes that you can fall back on. This recipe comes together fast and is delicious to the last bite. Serve it on your favorite bun with a little fruit on the side and you are set.
There is something about a sandwich that is filled with tender meat, onions, peppers, and a lot of cheese. I have always loved a classic Philly cheesesteak sandwich and this one with the chicken every bit as good.
Helpful Tips:
Chicken breast works well for this sandwich.
Cut the chicken strips thin. This way they fry up fast and are nice and tender.
Don't overcook the chicken strips, overcooking will cause you to have dry chicken.
I like using green and red peppers for this sandwich for the flavor and the color that they give.
Cut the veggies up the day before to save time.
I love adding sauteed mushrooms to this sandwich too.
Cover the skillet after putting the cheese on the meat and veggies, it helps the cheese to melt a lot faster.
Steps to make this Chicken Philly Cheesesteak Sandwich
Step one
Slice the chicken and add seasonings and mix until the chicken is coated, set aside.
Step two
Add olive oil to skillet and heat over medium heat.
Step three
Once the oil is hot add the sliced green peppers, red peppers, and onions. Cook for about 15 minutes or until tender.
Step four
Remove the pepper and onions from the skillet. Add one more tablespoon of olive oil and add the chicken pieces. Saute chicken for 5 to 8 minutes or until no longer pink inside.
Step five
Once the chicken is done add the peppers and onions back to the skillet and heat. Once everything is hot. Cover the mixture with the cheese slices. Put a cover on the skillet and let the cheese melt.
Step six
Place the chicken mixture on buns and serve.
Here are additional easy recipes to check out:
Stay in touch with me on Facebook, Twitter, Instagram, and Pinterest.