Chicken noodle soup… the ultra-comfort soup.
I can't think of any food that is more of a comfort food than chicken noodle soup. But it must have homemade noodles… made from scratch. Egg noodles that are purchased from the store just won't do. 
This was one of my favorite soups that my mom would make when I was a kid. I don't really remember my mom using store bought egg noodles, she would make the noodles from scratch and oh boy were they good. Even today if I am going to have chicken noodle soup, I prefer homemade noodles.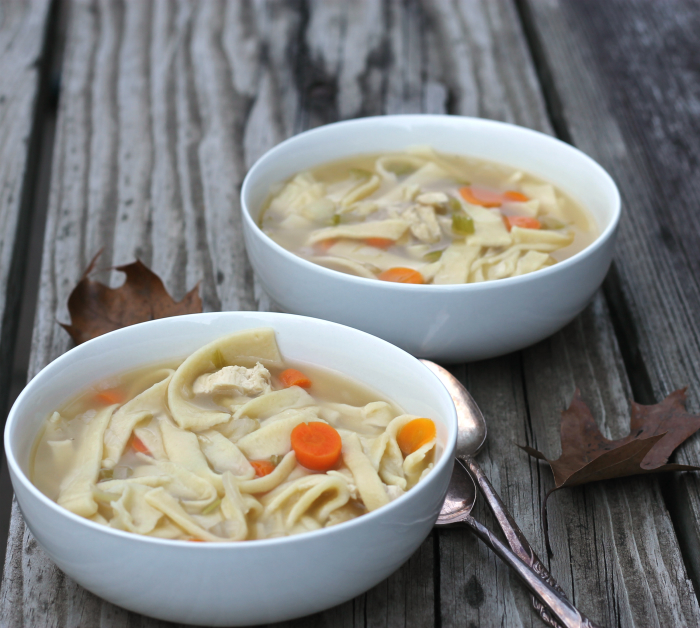 Yeah, they are a little more work, but they are so worth it.
For these noodles you don't need a fancy pasta machine, I use a rolling pin to roll them out and a pizza cutter to cut the noodles. The noodles may not all be the same size or even shape, but that is part of the fun of these noodles.
I remember my mom always precooking the noodles before she would add them to the soup. I am not sure if I knew the reason for doing this, but I would always do the same since that is what I grew up with. So I asked her recently why she precooked her noodles and she said that she did so to cook off some of the flour. Since the noodles are rolled out with a rolling pin there is a lot of flour involved which likes to stick to the noodles.
So it only makes sense that you precook them, there is no need to have that flour in your soup.
Do you like chicken noodle soup? Do you make your own noodles or do you buy the egg noodles? If you make your own once you will never go back.
Chicken Noodle Soup with Homemade Noodles
Keyword:
chicken noodle soup, homemade egg noodles
Ingredients
3

eggs

1 to 1 1/2

tablespoons

water

Pinch

salt

2 1/4 to 2 1/2

cup

flour and more for rolling

10

cups

of broth

I used broth from the store - reduced sodium

1

large onion chopped

2

cup

sliced carrots

2

stalks of celery chopped

Salt and pepper to taste
Instructions
Noodles - In a medium bowl beat the eggs with the water and pinch of salt. Add the flour gradually until you have a stiff dough, I usually keep adding flour until I can't knead it in any longer. Divide dough into 3 pieces. To you surface add a good amount of flour. Knead the dough a bit before rolling it out. If the dough is sticky at all add a bit more flour. Roll the dough as thinly as you can. Normally I like to let the rolled dough dry a bit before cutting the noodles, but it is not necessary.

Soup - Add the broth to a large Dutch oven or soup kettle. Add the vegetables and cook until they are fork tender. In a large sauce pan add water so the pan is about 3/4 full. Bring to a boil and start adding noodles. Add about a few noodles at a time, it will depend on the size of the pan, do not over crowd the noodles. Cook for about 20 to 30 seconds, just enough time to cook off the flour. Remove the noodles with a slotted spoon and add to the soup. Once the noodles are all added to the soup, continue to cook the noodles are fully cooked. Salt and pepper to taste. If you would like to add herbs to the soup feel free to do soup.
(Visited 5 times, 1 visits today)