Chicken Fried Rice is one of my all-time favorites when we go out to have Chinese food. It's total comfort food for me.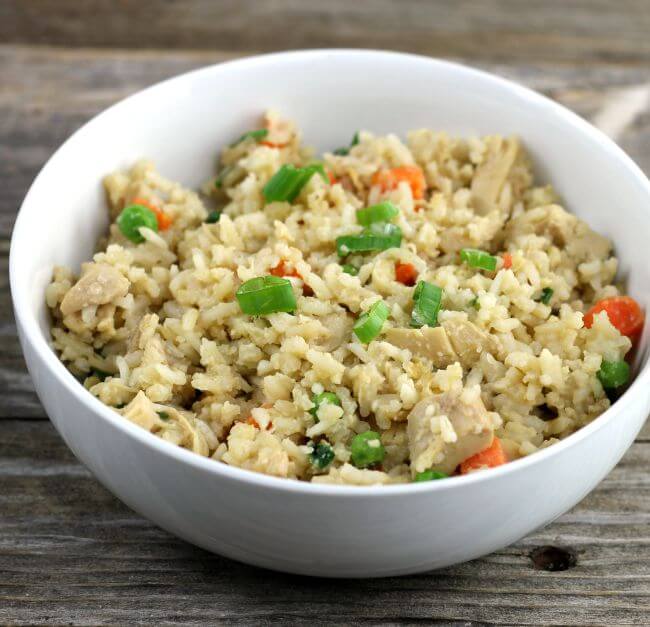 I really don't make fried rice enough at home, but when I do this simple recipe is one that Mike and I both really enjoy. It's a little different than the ones you may see around the web, but it works well for me.
One of the reasons I love this recipe for chicken fried rice is that you don't have to cook the rice ahead of time. You brown it in a skillet and when it is browned you add chicken broth and let it cook away until the rice is tender. Super simple.
And fewer dishes are always a plus.
This is a dish that you can make during the weekend or during the week, it is ready in about an hour.
Helpful Tips:
The best type of rice to use for fried rice is long-grain rice. I like to use plain white rice. Also, Jasmine rice works well.
There are several different oils that you can use when making fried rice. My favorite oil to use is sesame seed oil. I enjoy the flavor that it gives to this dish. But if you don't have sesame seed oil you can use vegetable oil, canola oil, or peanut oil all will work.
Use the vegetables that you have on hand or like in fried rice. I sometime will buy a bag of frozen stir-fried vegetables and add them to this recipe.
Taste your fried rice as you add the soy sauce. Remember add to much soy sauce you can't remove it. I like to put the soy sauce on the table when serving fried rice, so people can add extra if they like.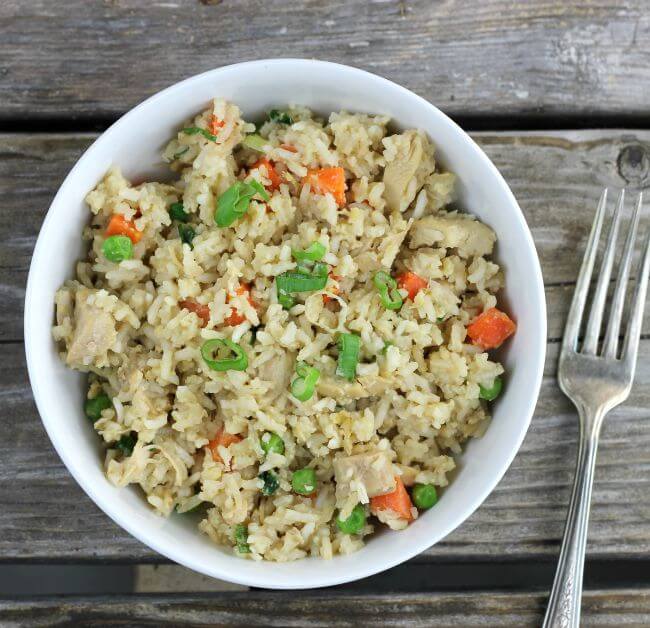 Do you need a wok to make fried rice?
No, don't worry if you don't have a wok. You can still make fried rice using a skillet or a cast-iron skillet.  For this recipe, I used a cast-iron skillet and it worked great.
Steps for making this Chicken Fried Rice:
Step One:
Combine the chicken and the soy sauce and let stand for 10 minutes while you fry the rice.
Step Two:
Add the sesame seed oil to the skillet and rice over medium heat and cook until the rice turns a light brown. Make sure to stir frequently so the rice doesn't burn. Add garlic about a minute before the rice is done.
Step Three:
Stir in the chicken and soy sauce. Stir in the broth.
Step Four:
Cover and cook the rice for 20 to 30 minutes or until the rice is tender.
Step Five:
Remove the cover and stir the vegetables and cook for another 5 minutes.
Step Six:
Add two eggs to a small bowl and whisk.
Step Seven:
Push the rice mixture to the sides of the pan to make a well. Add the scrambled eggs. Cook the eggs until just about set and mix into the rice mixture.
Step Eight:
Add additional soy sauce if desired.
Looking for additional easy meal recipes? Check these out:
Stay in touch with me on Facebook, Twitter, Instagram, and Pinterest.