Chicken corn black bean chowder, one those of comfort foods that are great for the colder weather.
It's now is officially fall. This is my favorite time of year. When it gets to this time of the year I am ready for some cooler weather and a little less activity. One of my favorite things at this time of the year is the comfort foods. Bring on the comfort foods… like this chicken corn black bean chowder.
Wow, what a weekend I had. I think that my head is still spinning. Our daughter Krista is getting married next year, so we went looking for wedding dresses, bridesmaid dresses, and flower girl dresses. We had a successful day; everyone found what they were looking for. Yay!!
Mike left on a work trip early Sunday morning, so I spent a lot of the day cooking up a storm. You know things for the blog and such. I went out to my mom's and brought some of the food with me and had dinner with her. Then rushed home to call Mike, to make sure he got to his destination and tell him that I already miss him. And then to write a blog post, boy was I tired.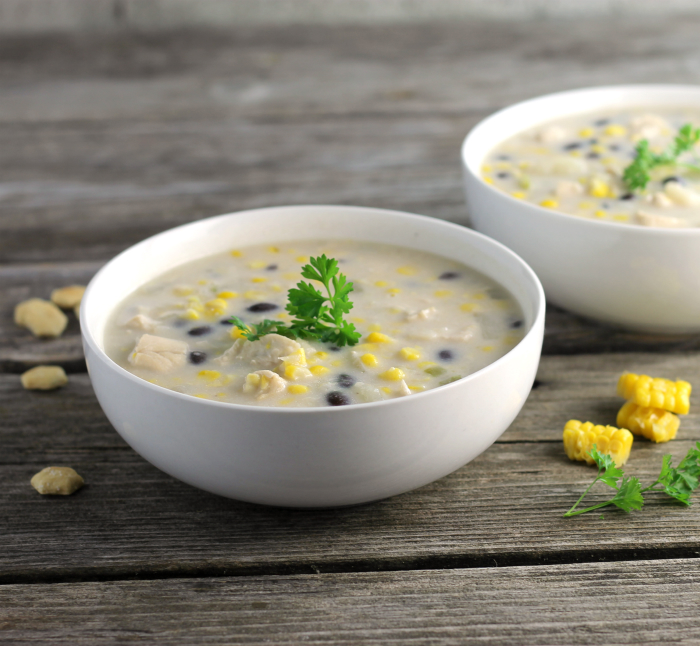 One of my food projects for the day was this chicken corn black bean chowder. It is a simple chowder made of chicken, corn, black beans, potatoes, celery, chicken broth, and milk. Super simple to make and a total comfort food.
Ingredients
1

medium onion

1

stalk celery finely chopped

2

tablespoons

butter

2

tablespoons

flour

4

cups

chicken broth

3

cups

milk

1

pound

cooked chicken breast chopped

3

cups

frozen corn

3

cups

cubed cooked potatoes

1 15-

ounce

cans of black beans rinsed

1

bay leaf

Salt and pepper to taste
Instructions
In a large Dutch oven add butter, onion, and celery. Cook over medium heat until vegetable begins to soften, stirring frequently.

Add the flour and stir until the flour is blended in. Slowly add the chicken broth and milk stirring until all is blended.

Add the remaining ingredients and stir in. Season with salt and pepper to taste.

Bring to a boil over medium-high heat, once it starts to boil turn the heat down to medium heat and simmer for 15 to 30 minutes.