Soup season is almost over; summer is just around the corner. So don't wait, you have to try this chicken broccoli cheddar cheese soup before it's too late.
Soup is one of my favorite things to eat. Ever since I was a little kid, I loved to bowl of soup and sandwich. There is nothing better than that! These days it's my go to lunch for work or even on the weekends. 
My granddaughter is following me in my footsteps, she is a soup loving little girl. Aubrey, my granddaughter stayed overnight with us a couple of weeks ago. She requested soup for lunch, what else, right?
I knew that I wouldn't have time to make a batch of soup, so I bought a can of soup for her to enjoy. Her favorite soup is ham and potato, but the store was all out of it. So when I saw there were cans of chicken broccoli cheddar soup, I grabbed that instead. She is also a little girl who loves her vegetables. Aubrey gets that from her dad, I was not a big fan of vegetables at that age. She is 3 1/2 and loves broccoli.
She just about licked the bowl clean that day. I had to try the soup, too. But I wasn't quite as impressed with the soup as Aubrey was. I thought I could do better than the canned soup. So, this past weekend I tried my hand at making some chicken broccoli cheddar cheese soup.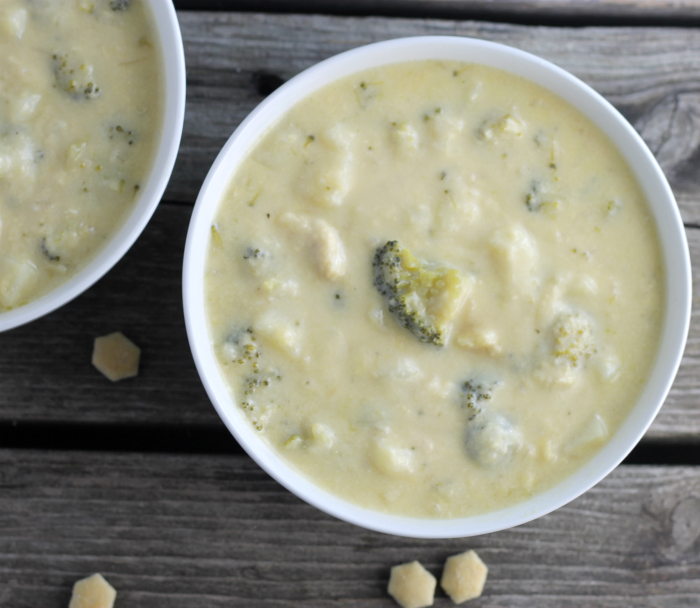 I am no stranger when it comes to making soup. In the winter months, especially, I usually make a large kettle every weekend.
The soup not only features chicken, broccoli and cheese, but there are potatoes, onions, and garlic thrown in the mix. The potatoes, onions, and garlic may not be listed in the title, but they are definitely a big part of this soup.
Normally I stay away from creamy style soups, not because I don't love them, but I like to stick with broth based soup, you know fewer calories. But this is a nice change of pace this time.
Oh, and by the way, yeah my soup was better than the canned stuff. But I think everything homemade is better. Don't you?
Chicken Broccoli Cheddar Cheese Soup
Ingredients
1

pound

of chicken breast

3

tablespoons

olive oil divided

1

medium onion

2

cloves

garlic

3

tablespoons

flour

3

cups

chicken broth

3

cups

milk

2

cups

broccoli florets

2

cups

potatoes

2

bay leaves

2

cups

cheddar cheese

I used mild

Salt and pepper to taste
Instructions
Heat 2 tablespoons of olive oil in a large Dutch oven over medium to medium-low heat.

Cut the chicken breast into bite size pieces and add to the Dutch oven. Cook chicken until it is no longer pink inside. Remove from Dutch oven and set aside.

Chop onions and mince the garlic. Add one more tablespoon of olive oil to the Dutch oven and add the onions and garlic. Cook vegetable until tender, about 10 minutes. Stirring frequently so vegetable don't burn.

Add the 3 tablespoons of flour and stir in. Gradually add the chicken broth and milk. Turn up the heat to about medium-high. Cook for about 5 minutes, the broth and milk will be slightly thickened.

Add the chicken back to the Dutch oven along with the broccoli, potatoes, and bay leaves. Bring to a boil. Turn the soup down to between medium and medium-low heat cover and cook for about 20 to 30 minutes or until potatoes and broccoli are tender.

Add the cheddar cheese and stir in until melted. Season with salt and pepper.

Serve.