Cauliflower cheese soup, a soup that is creamy, cheesy, and full of cauliflower. Comfort food at its best.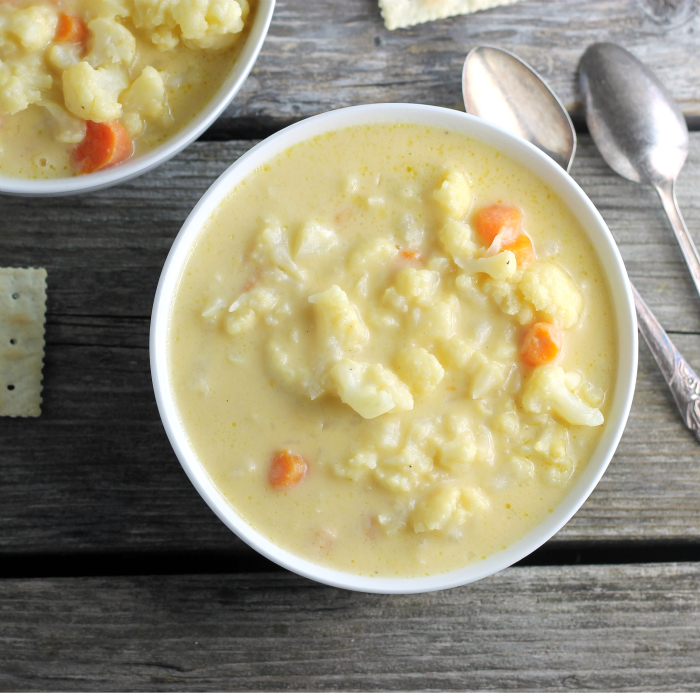 Although the weather has not turned cold yet, I have been in the kitchen these past weekend's making soup for my work day lunches. Once the calendar says it's fall I immediately think of soup. This past weekend I made an easy peasy pot of soup. Cauliflower cheese soup is simple to make and you can have it on the table in under an hour.
I had a wonderful weekend! Mike and I were celebrating our birthdays on Saturday. Yep, we have our birthdays on the same day. It makes it really easy to remember each other's birthday. We were fortunate to spend the day with our children, daughter-in-law, and grandchildren.
It was such a fun day. We went to a zoo that is a couple of hours away from where we live and spent the day just being together. The grandchildren enjoyed seeing all the animals. The adult's enjoyed being silly and being all together. Let's just say I feel very blessed to have the family that I have.
On Sunday I was in the kitchen making soup. I had made a broccoli cheese soup  a couple of years ago that is very much like this cauliflower soup, I liked it so much that I decided to try it with cauliflower.
The cauliflower and carrots are cooked in chicken broth until tender. While the cauliflower is cooking the cheese sauce is made. Once the cauliflower and carrots are tender the cheese sauce is added to the cauliflower, carrots, and chicken broth. The end result is a cheesy creamy soup. So delicious.
Make sure that as the weather cools down, that this cauliflower cheese soup is on your menu.
Ingredients
1

large head cauliflower

1

cup

sliced carrots

1 1/2

cups

low sodium chicken broth

2

tablespoons

finely chopped onion

2

tablespoons

butter

3

tablespoons

flour

2

cups

milk

2

cups

shredded cheddar cheese

Salt and pepper to taste
Instructions
Wash and dry the head of cauliflower.

Cut the cauliflower into bite-size pieces

Add the cauliflower, sliced carrots, and chicken broth into a Dutch oven.

Bring the cauliflower to a boil, reduce heat and continue to cook until the cauliflower and carrots are tender, about 15 minutes.

While the cauliflower is cooking make the cheese sauce.

To a skillet add the onion and butter. Cook onions are tender. Add the flour and blend to together.

Stir in the cheese. Continue to stir until the cheese is melted.

Add the cheese sauce to the cauliflower mixture and mix until well blended.

Serve.

Add the milk and blend together.