I am ending the week with a healthy recipe. It's a mouthful and it's yummy… carrot orange apple banana ginger smoothie.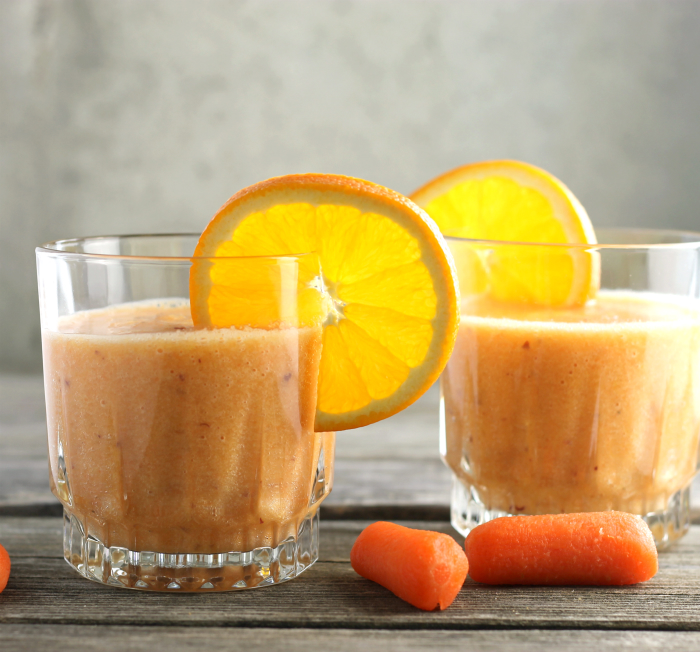 I can't think of a better way to unwind after the end of a crazy week than to have a healthy treat as this carrot orange apple banana ginger smoothie. I know that the title is a mouthful, but when I was trying to decide what the title should be for this post, I knew I had to add all of the fruits in this recipe. They all play a part in the flavor so I couldn't eliminate any of them.
Oh by the way, how was your week? As I mentioned before mine was a little crazy and a little… well crazy. I am happy that it is over and I have a little downtime over the weekend. It is funny because I have talked to several people this week that have told me that their week was a little crazy like mine. Was there a full moon or just something in the air or did I just miss something?
I love making smoothies, they are simple to make. I usually try to make them when my granddaughter comes over. She loves helping with adding the fruit to the blender and, of course, pushing the buttons on the blender. When the smoothie is finished she always has to take the first taste.
This smoothie is a long time coming. I wanted to try a carrot smoothie forever. I am not sure why it has taken so long. And then there is a ginger kick that I have been on. Yeah, I have been adding ginger to everything that I possibly can. Not totally sure why this came about, but I am liking it so far.
One of the things that I like about this carrot orange apple banana ginger smoothie is you don't have to add any honey or other sweeteners to it, the combination is perfect just the way it is.
Ingredients
8 to 10

baby carrots

2

oranges

1

medium apple

I used a red delicious

2

frozen bananas

1/2

cup

orange juice

or more

1/8 to 1/4

teaspoon

ground ginger
Instructions
Wash and dry the carrots. Peel the oranges and divide into sections. Wash and dry the apple and cut into chunks.

Add the carrots, oranges, and apple to the blender, blend until smooth. At this point the 1/2 cup of orange juice can be added, later on, you can more orange juice if the smoothie is too thick.

Add the banana and blend until smooth. Add a small amount of ginger and taste, add more if needed.

Serve immediately.
Notes
The ginger goes a long way, so add a small amount and taste, if you need more gradually add a little more.