I am a big fan when it comes to coleslaw. But now I think that this broccoli slaw is my new favorite.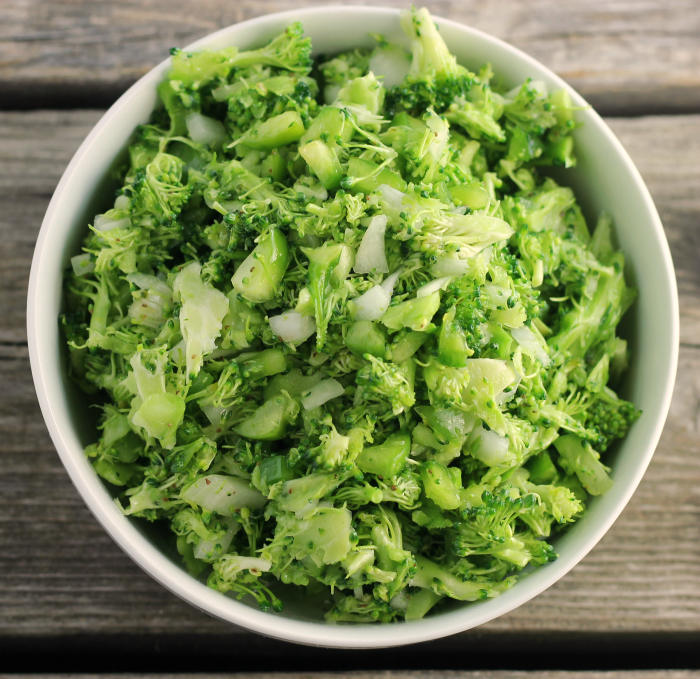 As a kid, I loved coleslaw. The only way I had eaten it back then was with a creamy dressing. You know the one that has mayonnaise or salad dressing. I loved it when we had fresh cabbage from the garden and my mom would make a large batch of the coleslaw. There was nothing better than garden picked cabbage made into coleslaw and some fried chicken.
Then Mike came into my life and his family loved coleslaw too, but they ate the kind of coleslaw with tangy oil and vinegar. As an adult, it has been a toss-up between creamy coleslaw and tangy oil and vinegar coleslaw, I have to say that I love both of them.
But now there is a new slaw in my life. That is right, broccoli slaw. This is my first time I am eating it, but let me tell you it has won me over, I have absolutely fallen in love with this new dish.
I thought of making a creamy dressing with the broccoli slaw but then decided to go with the tangy oil and vinegar dressing. And, wow it was so good I really think that I could have eaten the whole salad in one sitting.
When I told Mike that I was going to make a broccoli slaw, I got the feeling that he wasn't quite sure about the whole broccoli thing. But after he tried it I could tell that he was hooked just as I was.
Maybe the next time I make it I will go with a creamy dressing and see how that is. I will let you know.
Broccoli Slaw
Ingredients
1

small head broccoli

1/2

small onion

1/2

green pepper

3

tablespoons

oil

6

tablespoons

sugar

1/4

cup

white vinegar

1/4

teaspoon

salt

1/4

teaspoon

celery seeds
Instructions
Wash and dry a small head of broccoli. Shred the broccoli using a box mandolin grater, chop the onion, and pepper set aside.

In a small bowl combine the oil, sugar, vinegar, salt, and celery seeds and mix well.

Add the broccoli, onion, and green pepper to the dressing and mix well.

It is best to refrigerate for about an hour before serving.
Notes
This makes a small salad, for a larger salad double the recipe.