Taco Chicken Strips flavored by a handful of seasonings, make a tasty weeknight dinner. Young and old will love these chicken strips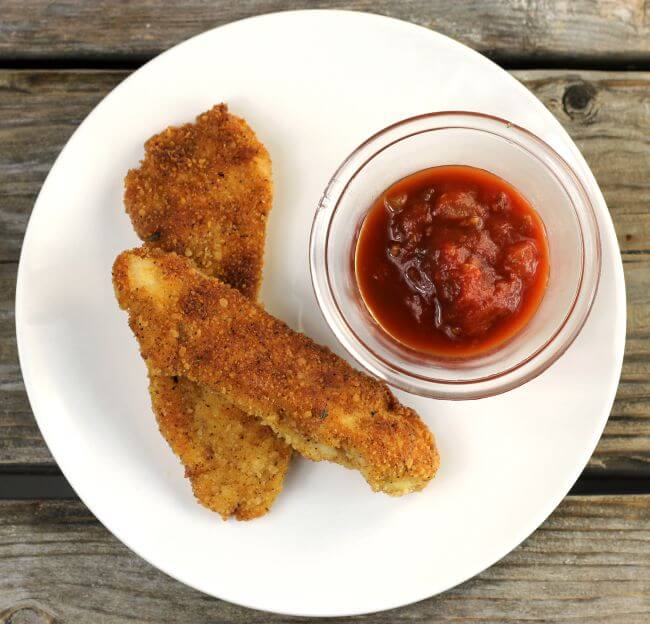 Chicken is one of our favorite meals that we make at our house. There are so many ways to make chicken, this one is a simple one and the chicken turns out juicy and tender in the inside and has a nice crunchy coating on the outside.
The taco flavoring is a nice twist on this chicken. I love to serve them with salsa along with a bit of fresh lime juice, but they are tasty just the way they are.
Helpful Tips:
I like to use chicken tenders for this recipe. If you can't find them at your grocery store you can make them yourself. Take a skinless boneless chicken breast and cut them lengthwise about 1/2 inch thick. Super easy to do.
Set a working station for coating your chicken. First, you will have a container for flour, the second will have the egg wash, and the third will have the breadcrumbs and taco seasoning. It will make it easier when you are working to coat the chicken.
I like using plain bread crumbs for this recipe, but you can use panko if you prefer.
These chicken tenders are fried with just a small amount of oil in the skillet. I add more as needed. you will be surprised to see how crisp the coating gets using this method.
Store any leftover in the refrigerator in an airtight container.
To reheat, preheat the oven to 350 degrees F and heat to the desired temperature.
Steps for making Taco Chicken Strips
Step one
Set up your work station for coating the chicken strips. For the first one, you will want just flour. The second one you will combine the eggs with the water. The third one will combine the seasoning and bread crumbs.
Step two
Coat the chicken with the flour, then the egg, and finally the seasoned bread crumbs.
Step three
Add enough oil to a skillet to coat the bottom of the skillet well. Place the breaded chicken strips in the skillet and fry 2 to 3 minutes on each side (time may vary depending on the size of the strips) or until the chicken is no longer pink and nicely browned.
Step four
Remove the chicken from the skillet and place on paper towels to remove any excess oil
Step Five
Serve with salsa or your favorite dipping sauce.
Here are some more easy chicken recipes:
Stay in touch with me on Facebook, Twitter, Instagram, and Pinterest.
Taco Chicken Strips
Taco Chicken Strips flavored by a handful of seasonings, make a tasty weeknight dinner. Young and old will love these chicken strips
Print
Pin
Rate
Ingredients
1 to 1 1/2

pounds

of boneless and skinless chicken breast

1/2

cup

flour

2

eggs

2

tablespoons

water

1

tablespoon

chili powder

1/4

teaspoon

garlic powder

1/4

teaspoon

onion powder

1/4

teaspoon

ground red pepper

1/4

teaspoon

oregano

1/4

teaspoon

paprika

1 1/2

teaspoon

cumin

1/2

teaspoon

salt or to taste

1

cup

bread crumbs

Vegetable Oil for frying
Instructions
Cut chicken into strips and set aside.

In a bowl add the flour. In another bowl beat the egg with the water. Set up a work station for the flour, then egg, and then the bread crumb mixture.

Combine all of the seasonings in a bowl large enough that you can roll your chicken strips in. After the seasonings are mixed together add the bread crumbs and combine until well mixed.

First, roll the chicken strip in the flour, then dip it in the egg mixture, and then into the bread crumbs, coating the strips evenly with the crumbs.

Heat enough oil to coat plus a little extra in a skillet.

Place the chicken strips in the heated skillet and fry until brown on one side, flip and fry on the other side until brown. It will depend on how large your strips are for cooking time, but cook until meat is no longer pink. Do this in batches
Notes
If you can't find chicken strips buy skinless boneless and cut the chicken breast the long way into about 1/2 thick pieces to make you own chicken strips.
Set up a working station for breading the chicken strips. Have containers that are large enough to dredge the chicken strips.
Use enough vegetable oil to coat the pan well for cooking the chicken. Add more oil as needed.
When frying the chicken strips work in batches making sure not to overcrowd the skillet. 
Nutrition information is an estimate and may vary with brands of ingredients used.
Nutrition
Calories:
566
kcal
|
Carbohydrates:
37.3
g
|
Protein:
92.4
g
|
Fat:
4.3
g
|
Saturated Fat:
1.1
g
|
Cholesterol:
342
mg
|
Sodium:
1740
mg
|
Potassium:
160
mg
|
Fiber:
2.5
g
|
Sugar:
2.2
g
|
Calcium:
79
mg
|
Iron:
3
mg
This recipe was originally published on April 22, 2015. It has been updated with new content and pictures on August 24, 2020.