I am fortunate to have wild blackberries growing in the backyard. I featured some of these lovely berries in this blackberry lime bread.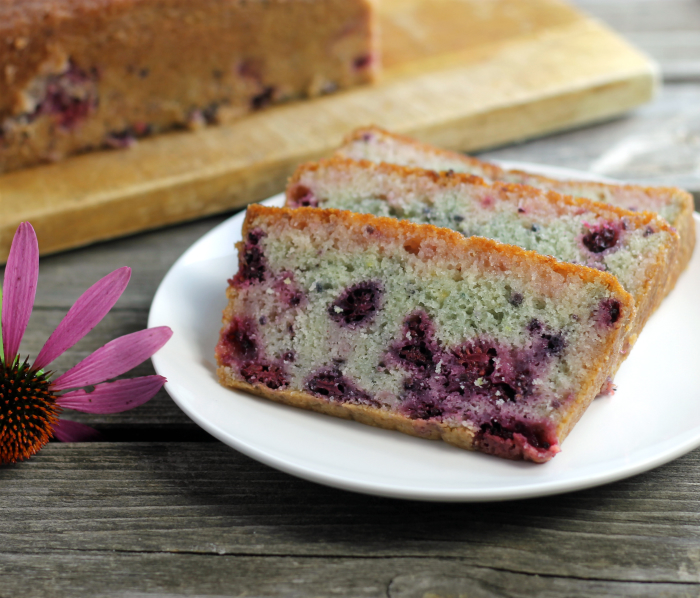 As summer starts to wind down I keep an eye on the blackberry bushes that grow in the back yard. I know that once August rolls around the berries will start to ripen. There are years that the berries are better than others and this year is one of the years that they are quite nice.
I have made this blackberry lime bread a few times this summer and it has been a hit each time I have made it. The flavors of the blackberries and the lime go together quite well.
This past weekend I took a loaf down to Chicago since we were visiting Mike's sister and her family. When we left the bread was gone, that is always a good feeling to see people enjoying the food that you have prepared.
I have to tell you that this post was actually supposed to go live on Friday, but the electricity went out and stayed out for a whole three hours. By the time that it came back the power came back on it was too late to finish my post… ugh! Better late than never, right?
This bread is super moist and loaded with flavor. As I mentioned earlier that the blackberries and lime turned out to be a great flavor combination. Someone asked me why I decided to go with lime instead of the traditional lemon. My answer is I wanted to see if this combination would work. So often when we pair berries with citrus we think of lemon, forgetting all about the lime.
In the future, I hope to use more lime in my baking.

I hope will you try this blackberry lime bread.
Ingredients
1/2

cup

butter

1 1/4

cup

sugar

Lime zest from one lime

2

eggs

1 3/4

cup

flour

1 1/2

teaspoon

baking powder

1/4

teaspoon

baking soda

1/2

teaspoon

salt

1/2

cup

milk

1 1/2

cups

blackberries roughly chopped

Glaze-

Lime juice from one lime

about 1/4 cup

1/3

cup

sugar
Instructions
Preheat the oven to 350 degrees F. Grease and flour a 9 by5-inch loaf pan

In a large bowl using an electric mixer cream together the butter, sugar, and lime zest until light and fluffy.

Add the egg and mix in.

Combine the flour, baking powder, baking soda, and salt together.

Add half this combination to the wet ingredients and mix in.

Add the milk and mix until well combined.

Add the remaining flour combination and mix until combined.

Add the berries and fold in, just until they are combined

Pour into the prepared bread pan.

Place into the preheated oven. Bake 55 to 60 minutes, test with a wooden pick, when inserted into the bread when it comes out clean the bread is done.

Glaze-

While the bread is baking combine the lime juice and sugar, stir until the sugar dissolves. Set aside.

Once the bread comes out of the oven pour the lime mixture over the top of the bread.

Set the loaf and a cooling rack for about a half an hour or up to an hour and remove from the bread pan.