Beef vegetable rice soup is a thick and hearty soup; that is sure to fill you up.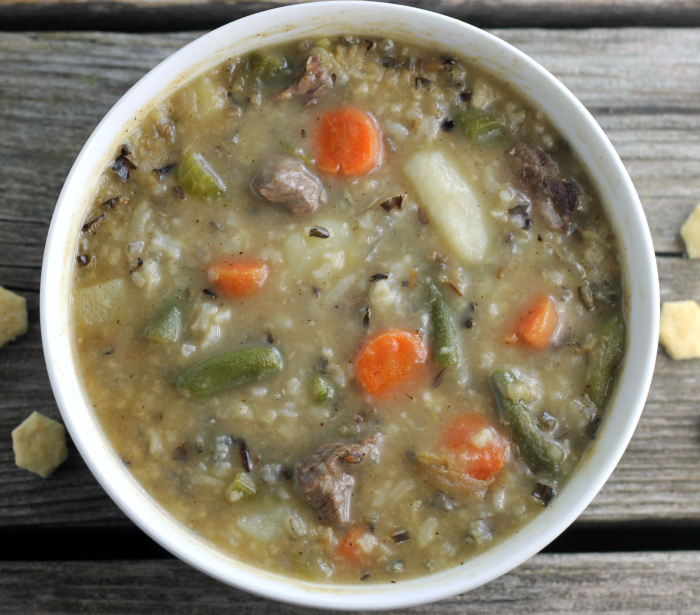 Cold weather is here to stay for a while, which means that it is time to start making soup if you haven't already. This beef vegetable rice soup is one that will stick to your ribs and keep you going. I love packing it for my lunch for work.
Yes, when the cold weather hits, soup for me is a must. Have you had any snow? I have to say that where I live we have been very lucky to miss the snow falls. Believe me; it did not hurt my feelings at all.
I am going to let you in on a little secret. Mike and I had bought a can of beef vegetable soup with rice and wild rice soup. I know, you are saying oh no a can of soup. But let me tell you it was really yummy and it inspired me to make the soup from scratch.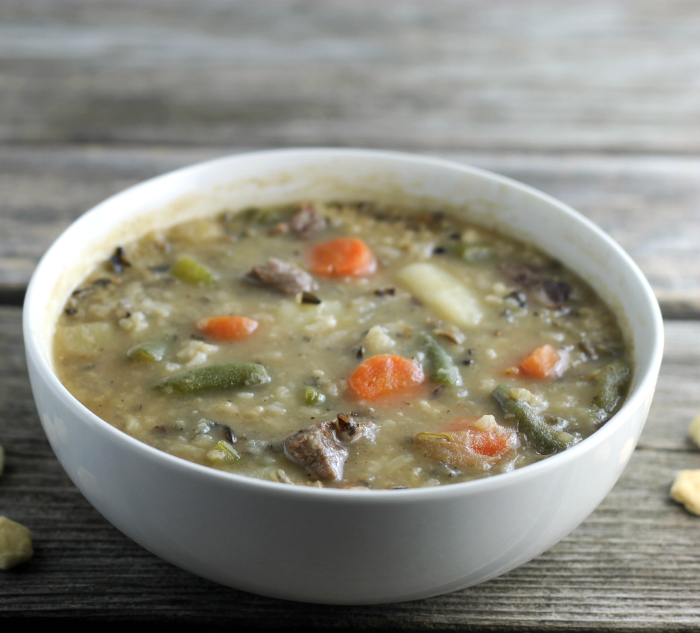 My beef vegetable rice soup is filled with a lot of white rice, wild rice, and a variety of veggies. Mike and I both love rice so I put a little extra rice in this soup, but if you are not as big of a fan of rice you can reduce the amount of rice.
The rice is cooked in the soup which makes a thick and hearty soup, but if you prefer a thinner broth cook the rice separately and add to the soup once it is cooked.  I have used onions, celery, carrots, potatoes, and green beans, but feel free to add the veggies that you like to this soup.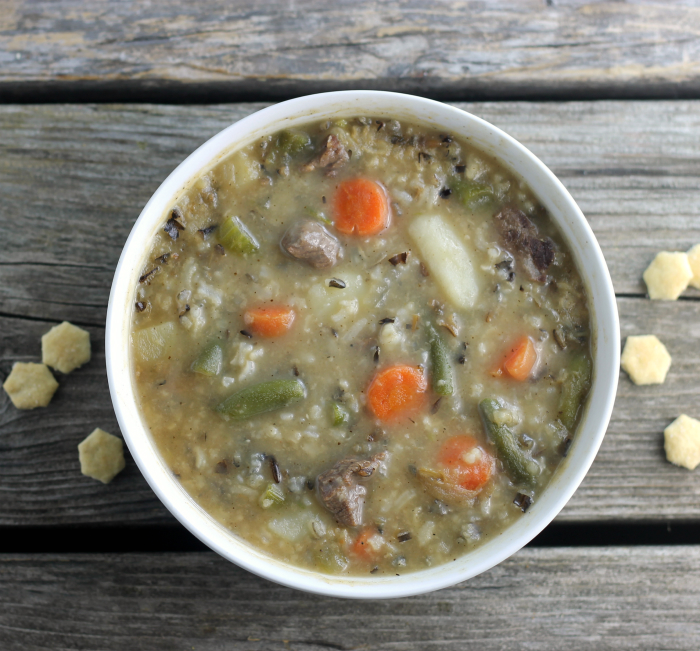 Do you need something that will warm you up and stick to your ribs? Make a batch of this beef vegetable rice soup.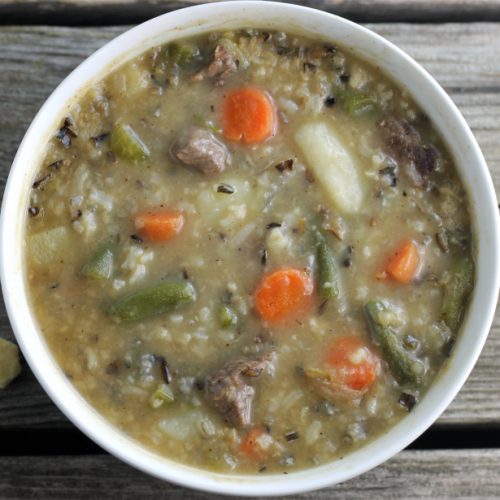 Ingredients
1

pound

beef stew meat

1

tablespoon

oil

1

medium onion chopped

2

stalks celery chopped

2

medium potatoes cubed

1

cup

carrots sliced

1

cup

green beans

frozen work well

8

cups

beef broth - plus more

1/2 to 3/4

cup

uncooked white rice

1/2

cup

wild rice
Instructions
Add oil to a Dutch oven and heat over medium heat. Cut the stew meat into small bite size pieces. Brown the meat in the Dutch oven.

Once the meat is browned remove from the Dutch oven and set aside.

Add the onion and celery and cook until tender, about 10 minutes.

Add the broth with the potatoes, carrots beans, and add the meat back into the soup.

Add the rice and wild rice.

Bring to a boil, once the soup comes to a boil reduce the heat a little and continue to cook until the vegetables are tender and rice is cooked.

Add additional broth if the soup is thicker than wanted.
Notes
For a thinner soup cook the rice and wild rice before adding it to the soup or add additional broth.
Check out this soup recipe, if you like this one.