Are you looking for something healthy that will knock your socks off? Try this banana oatmeal smoothie bowl.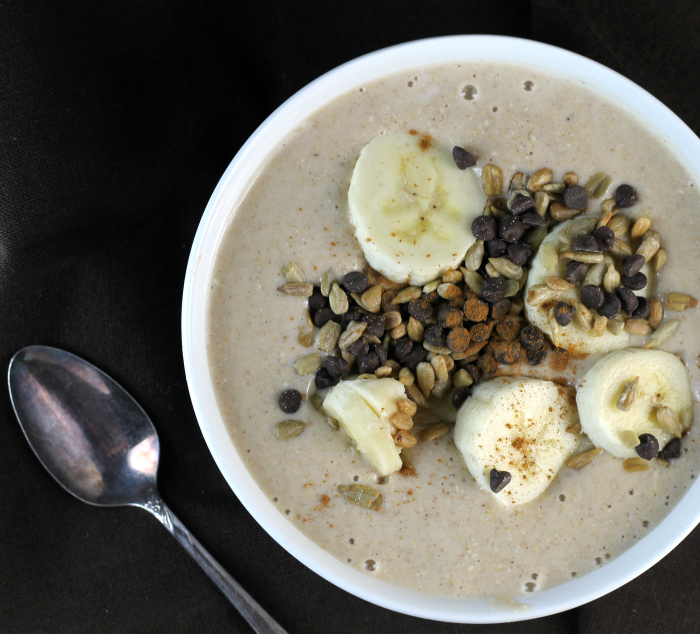 I have noticed smoothie bowls all over the web. There are some amazing recipes on so many different blogs. To tell the truth, I had never heard of them before. My first thought when I saw them was that it was a little crazy. Really, why put a smoothie in a bowl. But then I got to thinking why not?
The more I thought about them the more I wanted one. Since I had a couple of overripe bananas sitting on the counter, it gave me the excuse I need to try out this crazy craze. Yep, I jump right on the bandwagon and let me add it was a good thing that I did.
Tis the season when there is so much overeating of all the wrong things, this is the perfect treat. You know what I am talking about… cookies, fudge, eggnog… So, yes please I need something healthy.
I spent a few days thinking about what I wanted to add to this smoothie bowl. My first thought was banana and peanut butter, a great combination. Or at least, you would think, right? But, no there is certain someone who doesn't eat peanut butter, so I took that off the list of ingredients.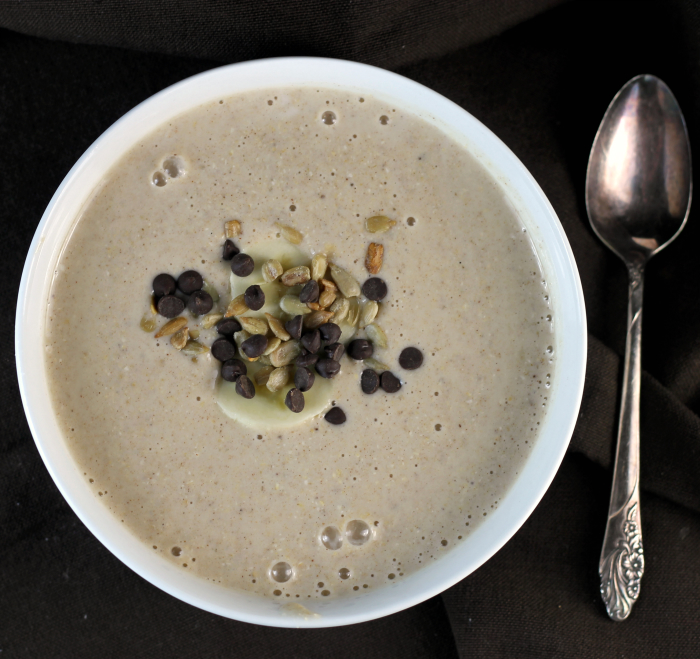 And since Mike had returned from a business trip, I wanted to make something that we both would enjoy. Woops, I guess I let the cat of the bag, yeah, it Mike who doesn't eat peanut butter. Such a sad thing! But anyway, we sat on the couch sharing this smoothie bowl and the whole time we kept commenting on how yummy it was.
It didn't take long before it was completely gone. Looking for something healthy, you really need to try one of these smoothie bowls.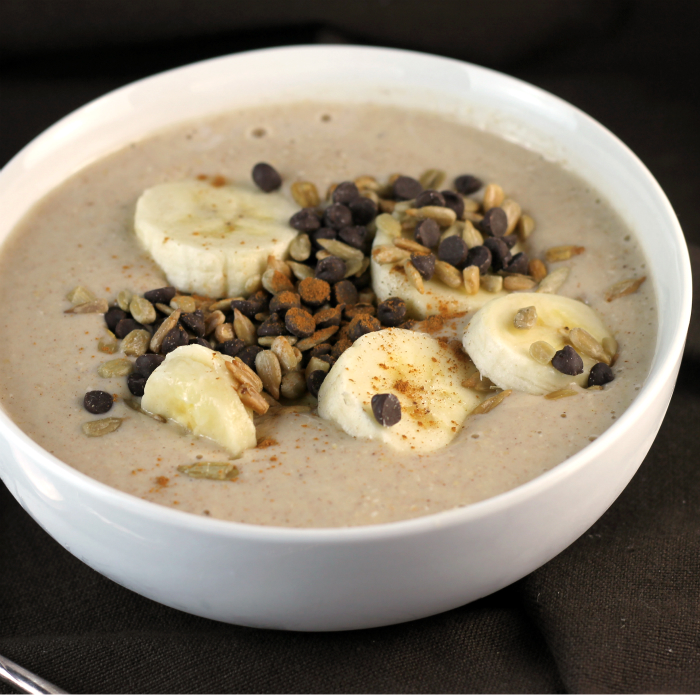 Ingredients
2

frozen bananas

1/2

cup

oatmeal

1/3

cup

Greek yogurt

1/4

cup

milk (I used 2%

but almond milk would be great0

2

teaspoons

honey

3/4

teaspoon

cinnamon plus more for the top

Toppings-

Mini chocolate chips

Sunflower seeds

Banana slices
Instructions
In a blender add the frozen bananas, Greek yogurt, and milk, using the ice crush speed process the bananas until they are smooth.

Add the oatmeal, honey, and cinnamon, continue to process until these ingredients are blended in.

Pour in a bowl and top with mini chocolate chips, sunflower seeds, banana slices and a dash of cinnamon, or any other toppings you like.

Enjoy