Baked potato chip shrimp, potato chips make an irresistible crunchy coating without the messiness of deep frying.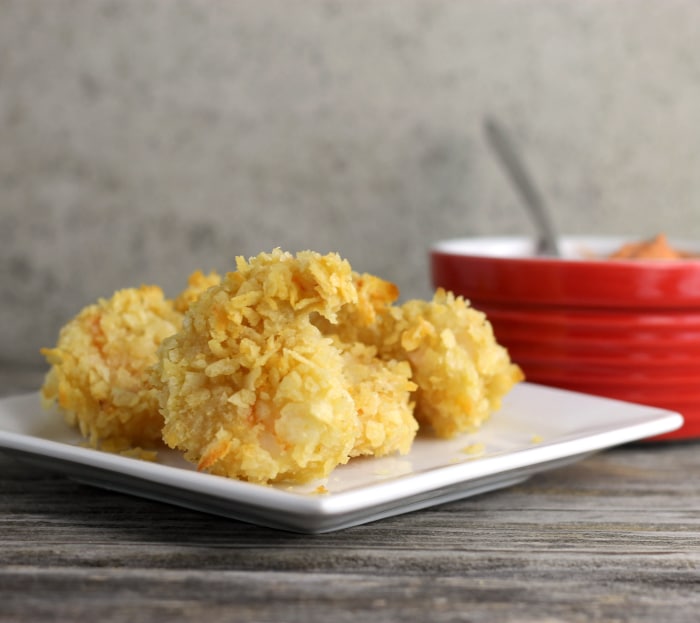 Deep fried shrimp has been one of my favorite ways of eating shrimp. I remember going out to eat with my parents as a kid and my dad would always order the deep fried shrimp. He would always give me and my siblings a taste of those shrimp. I still can taste them… yummy!
Since I don't have a deep fryer deep fried shrimp really is not something I can do at home. But, I do enjoy a crunchy coating on my shrimp that is where the potato chips come in on this recipe.
The nice thing about this recipe you can do parts of it ahead of time, so when you rush home from work, part of the prep work is done. Dinner will be on the table before you know it.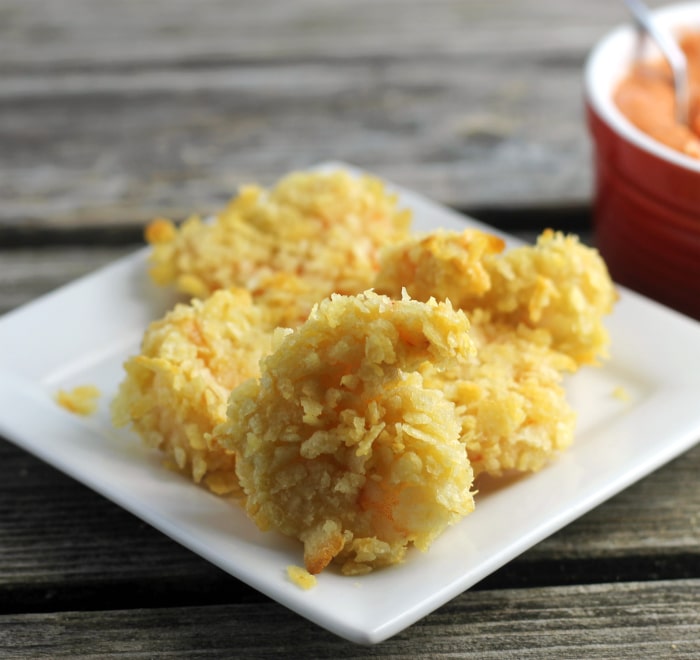 For the potato chips, I like to use my mini food processor to break them down into crumbs. You will want your potato chips to be fine. A mini food processor is a great tool for this. I like to do this the day before I make the shrimp, just make sure to keep the processed chips in a zip lock bag to keep them crunchy.
Cleaning the shrimp is another thing that can be done beforehand. Normally I like to do this in the morning before work. It is so nice to come home from work and have all that prep done beforehand.
For the baked potato chip shrimp it is best to make a workstation. The shrimp are dipped in flour, then egg wash, and then the crushed potato chips. What I like to do is make a line of these ingredients.  It makes everything a bit easier.
I have made this shrimp fried and baked, but I have to say that my favorite way is to bake them. They are great with a cocktail sauce or plain. A little time consuming, but the end result is worth it.
If you are a shrimp lover like I am you may want to check out my recipe for one pot garlic shrimp and pasta.
Ingredients
2 1/2

cups

potato chips

crushed

3/4

cup

all-purpose flour

1

egg

2

tablespoons

water

1

pound

shrimp

peeled and deveined
Instructions
Preheat the oven to 450 degrees F.




Peel and devein the shrimp. I like to use large shrimp for this recipe.

In a mini food processor add the potato chips and pulse until the chips are fine crumbs. Place the chips in a shallow bowl.

Add flour to another shallow bowl.

Beat the egg and water in another shallow bowl.

Take a cooling rack and place it on top of a baking pan. Spray the cooling rack with non-stick cooking spray.

Take the shrimp one at a time and dredge them in the flour, shake off the excess

Dip each of the shrimp into the egg wash.

Coat each shrimp with the crushed potato chips. Press the chips onto the shrimp.

Place the shrimp on the prepared cooling rack. Be sure not to overcrowd the cooling rack.

Place in the oven and bake for about 8 minutes. Until the shrimp are pink and the chips are slightly browned.

Remove from oven and serve immediately.
Notes
When spraying the cooling rack with the non-stick cooking spray place a sheet of aluminum foil under the cooling rack to collect the extra spray. Remove the foil before placing the shrimp in the oven.
Cooking time may vary with the size of shrimp that you use. 
Nutrition