Baked pork taquitos are filled with ground pork and cheese served with salsa, sour cream, or your favorite dip.

Baked pork taquitos are basically rolled tacos that are filled with meat and cheese. Normally these are fried, but I baked mine. I wanted something that would have fewer calories and hopefully somewhat healthier.
I didn't grow up eating tacos. Growing up in Wisconsin on a dairy farm we were a meat and potato kind of family. My dad did not go for anything out of the usual. Although as he got older he grew to love different foods.
To tell the truth, tacos have not been a food that I have always enjoyed. I may have a little of my dad in me. But my family have always loved them, so over the years, they have grown on me.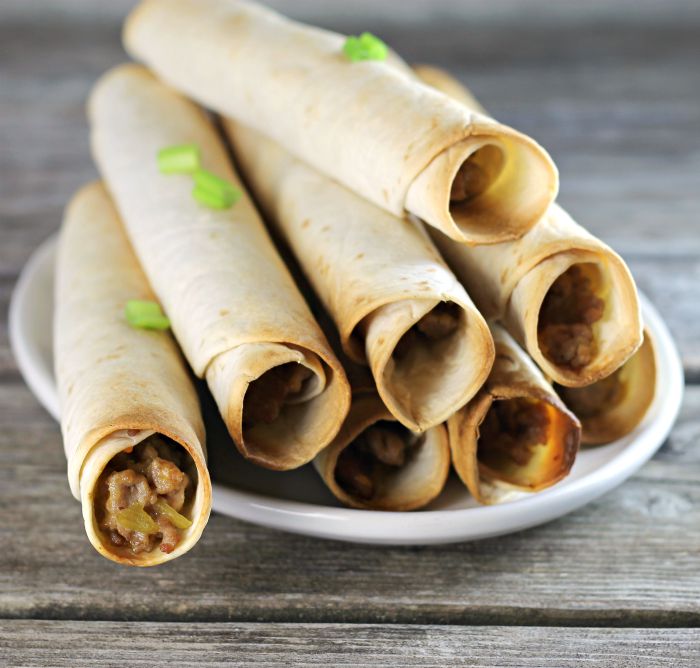 But the baked pork taquitos are fun to eat and to make. I decided to use ground pork for this recipe because I thought it would be easier to work with. I added green chilis for the flavor along with onion and garlic.
I was a little nervous that the tortilla shells would not want to stay rolled, but that was not a problem. After rolling the taquitos up I placed them in a greased baking dish with the seam down so they would not unroll.
I served these baked pork taquitos with salsa, but they would be delicious with sour cream or guacamole. Or you can decide what you would like to dip your taquitos into before eating them.
For additional easy meals check these recipes out:
One pot garlic shrimp and pasta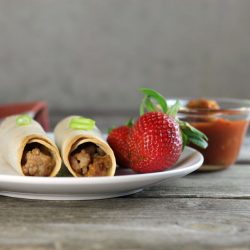 Ground Pork Taquitos
Baked pork taquitos are filled with ground pork and cheese served with salsa, sour cream, or your favorite dip.
Ingredients
1

pound

ground pork

1

clove

garlic

1

tablespoon

chopped onion

3

tablespoons

green chilis

1/2

teaspoon

cumin

Salt and pepper

to taste

3/4

cup

cheddar cheese

Non-stick cooking spray

8

8-inch flour tortilla shells
Instructions
In a skillet combined the ground pork, garlic, onions, cumin, salt, and pepper. Cook until the pork is no longer pink.

Remove the pork mixture from the heat and stir in the green chilis and cheddar cheese.

On each tortilla shell spoon about 4 tablespoons on the lower part of the shell. Roll the tortilla as tightly as you can and place on a baking sheet that has been sprayed with a non-stick cooking spray. You will want to place the taquitos seam side down.

Once the taquitos are rolled and place seamed side down spray the tops and sides with the non-stick cooking spray.

Place them in an oven that has been preheated to 425 degrees F. Bake for 15 to 17 minutes or until edges are lightly browned.

Serve with salsa, guacamole, sour cream, or your favorite dipping sauce.