You can't go wrong with these baked Parmesan French fries; they make a great side dish for almost any meal.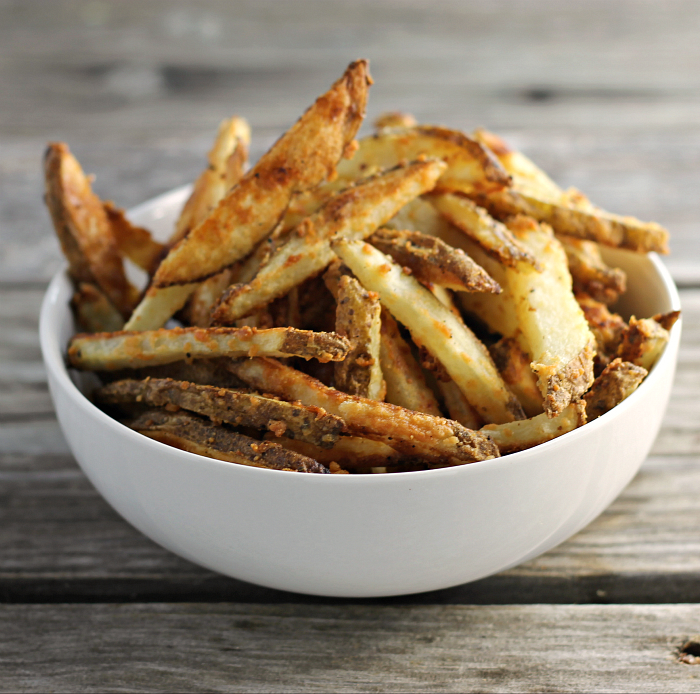 I probably have mentioned this before, but we eat a lot of potatoes in our house. Mike loves his potatoes baked, where I love French fries.
Yep, I love my French fries. I mean really, who doesn't love a good fry… right? If you ask me they could be on the menu 7 days a week and I would never get tired of them. Oh, also when I go out to eat and there are French fries on the menu, you have to know that I will be ordering them. Yep, I can't seem to get enough of these French fried potatoes.
Since I have been trying to eat healthier in the New Year, I made this batch of Parmesan French fries baked not fried. They are easier to make, no worries of working over hot oil. No oily greasy messes to clean up when the meal is done. Not to mention healthier.
When making French fries, I like to keep the skins on, something with the texture and flavor. I have read somewhere, that you if you cut your potatoes ahead of the time you are going to fry or bake them and let them set in ice cold water that you will get crispier fries. Not sure if that is a sure thing, but I think it does help some.
These particular fries were tossed in olive oil before I tossed them in the Parmesan cheese, garlic powder, and onion powder.
I wanted to give them some extra flavor. Plus I love the combined flavor of garlic and onion. They are best eaten right out of the oven since they are the crispiest at that time.  You can serve them with ketchup is you like, but really you don't have to they are yummy just the way they are and you can save a few calories too.
Ingredients
3

Medium potatoes

I used Russets

2

tablespoons

olive oil

1/3

cup

Parmesan cheese

1/2

teaspoon

onion powder

1/2

teaspoon

garlic powder

Salt to taste

Non-stick cooking spray
Instructions
Cut potatoes into sticks, I like mine thin, but you can cut as you desire. Place in a bowl and cover with cold water and add several ice cubes. Let the potatoes sit for about an hour.

Pour the water off and dry completely with paper towels or a kitchen towel.

Place the potatoes back into the bowl that they were soaking in, but make sure to dry it first.

Take the olive oil and pour over the potatoes and toss until they are all cover with the oil.

To a gallon bag add the Parmesan cheese, onion powder, and garlic powder. Add the potatoes and shake until the potatoes are evenly coated with the cheese mixture.

Line a baking dish (I used a jelly roll pan) line with aluminum foil and spray with a non-stick cooking spray.

Spread the fries in a single layer on the prepared baking dish. Place into a preheated oven of 400 degrees F.

Bake for 15 minutes, remove from the oven and turn the fries over, then place back into the oven and continue baking for another 15 minutes or until the fries are crisp. Baking times may vary depending on how small or large the fries are cut.

Remove from oven and season with salt. Serve immediately.