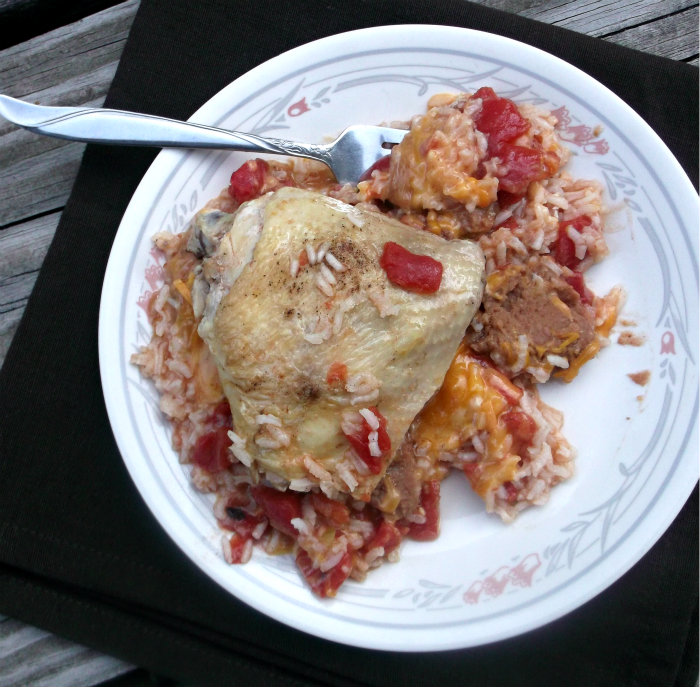 My dear hubby Mike found this recipe on a can of Rosarita refried Beans a few weeks ago. He has been talking about making this recipe ever since he laid his eyes on it, but we didn't have the ingredients and then we forgot to pick up the ingredients that we needed when we were at the grocery store. Well, finally we picked up the elements this past weekend.
Tonight I came home to a house that had the most beautiful aroma. Mike was in the kitchen cooking away making this recipe. I have to admit I couldn't wait to sit down and eat.
One word can sum up the flavor of this dish… yummy! I loved the refried beans along with the rice and the tomato and chili blend gives this dish a little heat. I know that this one will be on the menu in the future… also I have to admit Mike is quite the cook.
Arroz con Pollo y Frijoles (We found this recipe on a can of Rosarita Refried beans, but you can also find this recipe on www. rosaritarecipes.com)
Ingredients:
2 1/2 pounds chicken thighs
1 teaspoon garlic salt
1 teaspoon black pepper
Nonstick cooking spray
1 cup long-grain rice uncooked
2 cans (10 ounces) diced tomatoes and green chilies, undrained
1 can-14 ounces chicken broth
1 can-16 ounces refried beans
1/2 cup cheddar cheese or Mexican blend cheese
Directions:
1. Season chicken with garlic salt and pepper. Spray skillet with cooking spray. Cook chicken over medium-high heat skin-side down, 7 minutes. Turn; cook until brown. Remove chicken.
2. Add the rice to the skillet; cook and stir for 2 minutes until light brown. Stir in tomatoes and broth. Return chicken to skillet; bring to a boil. Reduce heat; cover. Simmer for 20 minutes or until rice is tender.
3. Remove the chicken. Drop beans by tablespoons onto rice; top with cheese. Heat until hot. serve with chicken.