Apple peanut cake with caramel cream cheese frosting, a two-layer cake filled with apples and peanuts then topped with a sweet caramel cream cheese frosting.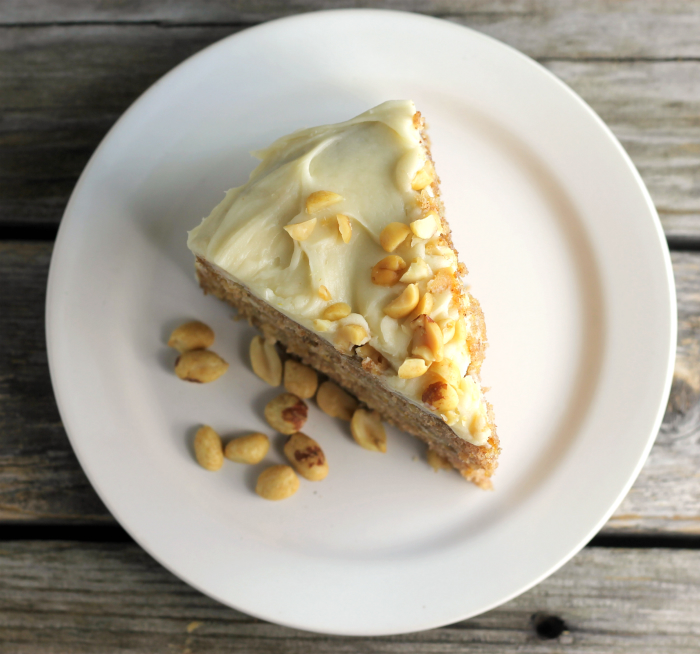 My sister Lauri celebrates her birthday on Halloween. As a kid, we would tease that she grew a wart on the end of the nose around Halloween. These days we don't tease her about silly things like that, I guess that was kids' stuff. These days I like to surprise with birthday cakes. I made this apple peanut cake with caramel cream cheese frosting for Lauri's birthday.
I am fortunate enough to have my family close by, in order to make things like birthday cakes and celebrate special days like birthdays and holidays. As I have mentioned on my blog several times, Sunday evening is a night when a few of my siblings will gather at my mom's home and visit.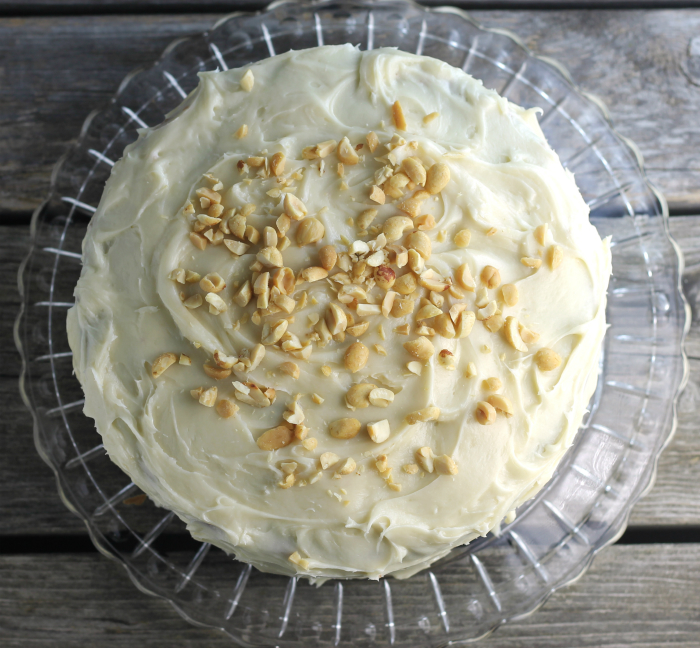 Since Halloween was on Monday, I brought the apple peanut cake with caramel cream cheese frosting to my mom's house on Sunday. Just as I hoped there were a couple of my siblings there and my daughter and grandchildren. The reviews on the cake were all positive. My mom told me that this apple cake was the best apple cake she had ever eaten. You can't beat reviews like that.
What is your favorite cake when your birthday rolls around? I normally would pick anything chocolate, but the apple peanut cake with caramel cream cheese frosting is so yummy, I may have to rethink the whole chocolate thing.
If you like this recipe you may like this one as well.
Apple Peanut Cake with Caramel Cream Cheese Frosting
Ingredients
1/2

cup

brown sugar

1

cup

granulated sugar

1/2

cup

butter

2

eggs

2 1/4

cup

flour

1

teaspoon

baking soda

1

teaspoon

salt

2

teaspoon

cinnamon

1

cup

buttermilk

1 1/2

cup

finely chopped apples

3/4

cup

chopped peanuts

Frosting -

1/4

brown sugar

1/4

cup

cream

8

tablespoons

butter divided

8

ounces

cream cheese

1

teaspoon

vanilla

2 1/2 to 3 1/2

cup

powdered sugar

Additional chopped peanuts for topping

optional
Instructions
Preheat oven to 350 degrees F. Grease and flour to round cake pans.

In a large bowl cream the brown sugar, granulated sugar, and butter with an electric mixer.

Add the eggs and mix in.

Sift together the flour, baking soda, salt, and cinnamon, gradually add to the creamed mixture alternating with the buttermilk.

Fold in the apples and peanuts.

Divide batter between the two cake pans. Place in a preheat oven and bake for 30 to 35 minutes or until a wooden pick inserted comes out clean.

Remove from oven and cool on cooling racks. Remove from cake pans and cool completely.

Frosting

Add brown sugar, cream and 2 tablespoons butter to a saucepan. Bring to a boil over medium heat. Stirring constantly cook for a minute or two, so that it thickens slightly. Remove from heat and cool completely.

Add the remaining 6 tablespoons of butter and cream cheese in a medium bowl. Beat with an electric mixer until just mix together.

Add the cooled caramel mixture and vanilla, mix just until mix in.

Add enough of the powdered sugar to make the frosting the right consistency

To assemble-

Place one of the layers of cake on cake platter. spread the top with frosting.

Place the other layer of cake on top. Spread with the rest of the frosting

Sprinkle with addition chopped peanuts if desired.